PEP GUARDIOLA ON BARÇA
Pep: "There was a fuss every time I left Messi on the bench"
The ex-Barcelona coach told autopista.es: "If you can't motivate your players anymore, you know the time has come to leave."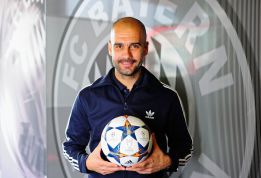 Pep Guardiola has looked back on his time as coach of Barcelona, discussing the reasons behind his departure from the Camp Nou in 2012.
In an interview with autopista.es, the current Bayern Munich boss also talked about his summer appointment at the Allianz Arena.
Winning is easy: "When the season ends, no coach or player can guarantee success. And there's no magic formula to winning. If there were one, football would be as simple as going shopping at a big shopping centre: you simply go and pick what you like most. Where would the challenge or excitement be in that? I didn't win the European Cup immediately. I started my career at Gimnàstic de Manresa, a regional team in Catalonia."
Low points at Barça: "There were a lot of sad moments. When Barcelona lost to Chelsea in the 2012 Champions League semi-finals – that was one of them. We were much better than our opponent, but we conceded a needless goal in the second leg and, before we knew it, we were out. That was a big defeat for me. I felt as if I couldn't lift my team again."
Departure from Barça: "If you can't motivate your players anymore, as a coach, you know the time has come to leave."
Demands placed on a coach: "Leading a team requires tonnes of energy. In other words, there are times when you need to recharge your batteries. That's what I did when I took a sabbatical in New York. That was very important for me, for my family and also for my previous team."
Racking up silverware at Barcelona: "We were incredibly successful. 14 trophies in just four years; it was the best period in the club's history. But that can also be a burden. I progressively encountered more difficulties in motivating myself and the team. I had won everything with Barça, both as a player and as a coach. And I realized that it was getting more and more difficult for the team."
Appointment at Bayern: "My first contact with Bayern Munich was at the Audi Cup in 2011. I had an espresso in the VIP Lounge and spoke to Karl-Heinz Rummenigge and Uli Hoeness about my plans for the future. At that time, Bayern's current success couldn't be foreseen. But, for me, the challenge is simply to coach a new team and continue the achievements of my predecessor, Jupp Heynckes."
Handling a team full of stars: "With a lot of stars in the line-up, like we have now at Bayern Munich or at my previous team, Barcelona, you can encounter situations in which having so many can be destructive. Everyone wants to play, but you can only put out 11 players on the pitch at any one time. The players I leave on the bench are likely to be the ones who won't be happy with my decision. And there's the pressure from the press and the fans of having to pick certain players. Every time I left Messi on the bench, for example, there was a fuss."