REAL MADRID
Ancelotti anticipating an "evenly-balanced Clásico"
"Barça may have had a few problems but they have resolved their most recent games well," Real Madrid's coach told reporters today.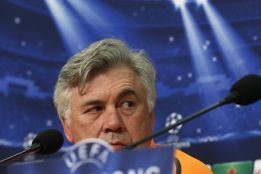 Carlo Ancelotti accompanied Jesé in Monday's press conference ahead of tomorrow's Champions League return leg against Schalke. Madrid go into the match with a 6-1 advantage from the first leg and practically guaranteed a place in the quarter finals and for that reason, much of today's presser centred around Sunday's league clash with FC Barcelona.
Team changes against Schalke: "We'll be making a few changes because our last two games required a great physical effort; we've also had to travel and hardly had much rest. So this is a good moment for some players to take a rest".
Is this the best squad you have ever worked with? "I've managed several squads with a lot of quality and so it's difficult to make a comparison but this one has a little of everything. It has experience, youth, character, personality... You could say that this is the most complete squad I have ever worked with".
Sunday's visit from Barça: "I've always considered Barcelona to be a strong side – everything thinks that too. They may have had a few problems but they have resolved their most recent games well. Sunday's match will be evenly-balanced".
Benzema: "He won't be able to play tomorrow but we're hopeful that he'll be back for Sunday's game".
Your future could depend on what happens between now and June? "It's difficult to answer that question. I am doing the best I can and I am happy to be here. Coaches depend on results – that's how it is in football today".
Which competition is the most difficult to win? "Right at this moment, the league because we only have a slender advantage. It's not the case in the Copa del Rey or Champions League".
Why is the team performing so well in the Champions League? "The team's in good form. We have to put in a good game tomorrow, it's an important Champions League game and we need to prolong the good moment we are in as that will give us extra confidence. We need to show respect for our profession, the competition and the opposing team".
Starting XI: "Jesé will start – our forward line will be MoratA, Jesé and Cristiano. Jesé is lucky – I had to wait until I was 30 before my first press conference in the Champions League, and he's still only 21".
Benzema's role in the side: "He's a very important player for us – not just because he scores but for the way he plays. We'll see how he responds to treatment tomorrow. If he can't play on Sunday, someone else will".