ATLÉTICO | COURTOIS
Thibaut Courtois: "There's no agreement with any club"
The keeper denies having reached a deal with Madrid or having told Gil Marín about it.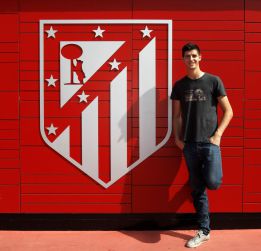 Thibaut Courtois spoke to this newspaper to deny that he had any agreement with Real Madrid. "It's completely false. I couldn't have said any such thing to Gil Marín because it isn't true. Everyone knows I've got a contract with Chelsea and I'm happy at Atlético". Radio presenter José Ramón de la Morena announced on his show El Larguero (the crossbar) that Courtois had told the Atleti managing director he had an agreement with Real.
Moreover, sources at Atlético Madrid today said to AS that the player "had always been very open with us... and that's why we're continuing to talk to Chelsea to see if he will stay at Atlético for longer".
From what this paper has learnt, Atleti have been working for months in a bid to allow the Belgian keeper to remain with the Spanish club. Either by signing him outright, or by persuading Chelsea to renew his loan deal for another season. For that to happen though Chelsea would need to renew his deal because his current contract with the London club finishes in June 2016.
All of Atleti's current focus is on keeping Courtois and the club's financial situation is being managed with the aim of doing everything possible to keep him.