LIGA BBVA | VALLADOLID - BARCELONA
Barça boss Martino: Messi has seen specialists about vomiting
Gerardo 'Tata' Martino said that the forward's problem has not been resolved, but that it doesn't affect his performance. He also described Puyol as "irreplaceable".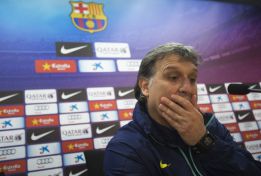 Barcelona coach Gerardo 'Tata' Martino has played down the frequent bouts of vomiting that Lionel Messi has suffered on the pitch - something which occurred most recently during Argentina's international friendly against Romania on Wednesday.
Speaking on Friday ahead of the Blaugrana's Liga BBVA match against Real Valladolid (Saturday, 16:00 CET), Martino also reflected on Carles Puyol's announcement that he will leave the club at the end of the season.
Messi vomiting: "It's something that's not normal, but it doesn't affect his performance. It happens to him regularly. He has even gone to see specialists at certain times; they haven't solved the problem, but it isn't a cause for concern. It doesn't affect him at all in terms of doing his job."
Puyol: "I think he's a footballer who is irreplaceable. I'm probably not the best-placed person to comment on this, because I've only worked with him for seven or eight months, but that's enough to say what I said. He's the type of player that a club has only once every so often. Life goes on at Barcelona, and the club will look for a replacement, but he'll always be in everyone's heads because he leaves an indelible mark."
Does Puyol have coaching ambitions? "No, because he told me. I thought the same as you [that he has the potential to be a coach], but he said no."
Signings: "I haven't spoken at all about next season. The only new development is that Puyol has confirmed he's leaving. The club needs a central defender. As for other players, I haven't spoken at all. I'll say again that [Arturo] Vidal is an excellent player, but I haven't spoken to the club about him or any other footballer."
Match against Valladolid: "The match concerns me because of what the rival means: they're fighting at the bottom of the table and have only lost two games at home. It's true that there are extenuating circumstances; it has been a short week and the players [who were on international duty in midweek] arrived yesterday and today. We've only spoken about the match today, but that doesn't take away from the fact that they're excuses. We have to focus on putting in a good match and, above all, winning."