INTERNATIONAL FOOTBALL | SPAIN
Del Bosque: "Costa can help us, but this squad is only for Italy"
Asked about previous incidents between Diego Costa and squad members, Spain's coach revealed he would leave the players to resolve any issues.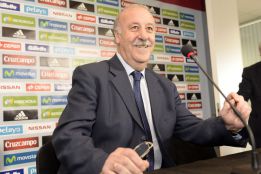 Vicente del Bosque has named a 22-man Spain squad for next Wednesday's friendly against Italy at the Vicente Calderón.
Speaking at Friday's announcement, the La Roja coach revealed that he will leave it to the players to resolve any issues that could exist between members of the squad and Diego Costa, who was called up.
Del Bosque also sent out the message that "this squad is for the match against Italy", stressing that the group could change ahead of this summer's World Cup.
Incidents between Diego Costa and some Spain players: "We'll deal with things as we did last time [by allowing the players to sort things out amongst themselves]. That didn't bring bad results. We shouldn't blow things that happen in football out of proportion; there can be confrontations and that's understandable. But in the last game I don't think there were any incidents."
Reasons for calling up Diego Costa: "He's an unusual case, because he had never been called up before and because he was born in Brazil. But he's a player who has been called up on the back of what he has achieved with his club and because we believe that he can help us. That's why we've called him up; for no other reason."
Absences from the squad: "I don't want to correct you, but there are more than two important footballers who have been left out. But this squad is only for [the friendly against] Italy. There is time ahead, three months of competition, and a lot can happen to confirm this squad or persuade us to bring in other players."
Last big test before the World Cup? "Probably, but for the Spanish players the big test will be in all the competitions that they have until we announce the squad [for Brazil 2014], around 25 May. As well as the incentive of making the squad, which will push them on to perform with their clubs."
Thiago Alcântara and César Azpilicueta: "I'm sure that some who didn't make the squad also did enough. But we believe that Azpilicueta is doing very well at Chelsea and we're going to get a close look at him. His versatility is also very beneficial to us. The same goes for Thiago. He's playing very well for Bayern Munich, one of the best teams in Europe, and he's a starter."
Javi Martínez: "He can play as a traditional central midfielder or as a central defender."
Italy: "They're one of the world's big national sides. They have a core of Juventus players and we've had some very tough meetings with them, such as the first match at Euro 2012 and the two Confederations Cup games, one of which was very tense and went to extra-time; they were as strong as us. And the final [of Euro 2012], which was very likely our best match in recent years."
Defensive options: "We have them in mind. Nacho, [Marc] Bartra, Íñigo [Martínez]… they're our future. If we had to bring them in we'd have no qualms about doing so, but now Javi Martínez is playing as a central defender and we want to have a look at him."
First-choice goalkeeper: "That hasn't been decided. We'll have to see what shape each player is in."
Iker Casillas's season: "He's playing well, and both Diego López and Iker are dovetailing well and playing to their best level, like the rest of the team."
David Villa and Juan Mata: "There have been players who haven't had a run of games because of the odd problem, but in Juan's case we like him a lot, we know what he can do, but right now there isn't room for everyone. It isn't easy; we have a lot of very good players, both in terms of young players and veterans."