CHAMPIONS LEAGUE | SCHALKE 1-6 REAL MADRID
Real Madrid thrash Schalke to banish Germany hoodoo
Benzema, Bale and Cristiano hit two each as Los Blancos put in a superlative display at the Veltins Arena. Huntelaar pulled one back with a spectacular effort.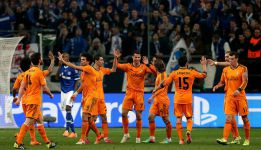 There will be some who will try to downplay Real Madrid's victory by pointing to Schalke's historical irrelevance. And that wouldn't be fair. Worse teams have hit Madrid where it hurts on their trips to Germany. What's different is that there is no comparison between this visiting side and those which were made to suffer during the 70s, 80s and 90s. This team isn't just better, it's miles better. In every area. The physical strength that favoured the Germans now plays in Madrid's favour; now the giants are the Madridistas. The talent is incomparable, too. And, let's face it, the resources. And, it also has to be admitted, the game plan. For a few years now, Madrid have developed using Cristiano Ronaldo as the model. The aim is for the team to look like him, to run like a cheetah and bite like a tiger.
And it can't be denied that part of this project bears the signature of José Mourinho. That's his way of seeing football, and that was his way of combating Barcelona, first with rocks and then with more refinement. Pushing solidity to the fore, he reached three consecutive Champions League semi-finals. The problem, in the end, was him. His personality, his ego and the wars he fought on so many fronts loaded the team with a level of pressure that proved unbearable in their attempts to make that final jump. Incidentally, Mourinho's Porto won Europe's top club competition in 2004 at the Veltins Arena. So everything started at this stadium.
But let's get back to the present. Carlo Ancelotti's arrival has been significant in many ways, but above all because it has given us the chance to see Madrid in a happy atmosphere. And everyone flourishes in a happy atmosphere, let the slave drivers be told. What's more, the Italian has also enjoyed the necessary dose of good fortune; Napoleon was right when he demanded generals who were lucky. Sami Khedira's injury has forced him to explore new avenues that have led him to this 4-3-3 formation, with Luka Modric reborn and Ángel di María reinvented on the left of the midfield three.
Ancelotti has proven capable of adapting to what was already there and, much like Vicente del Bosque, he has made decisive contributions that are mistaken for natural evolution. Like a good film, a coach's success is in making the dialogue flow without it seeming forced. The danger is that people think there isn't a script at play behind the actors/footballers.
It's easy to say so now, of course, but Schalke made a very positive start to the match, with the defence playing a high line and the hosts convinced of their ability to exchange goals and foot-races with Madrid. So naive. And so blind to the signals. With ten minutes played, several long passes had already exposed a creaking defence. With 20 minutes played, Schalke were 2-0 down. They got their tactics wrong; that much is clear. They let their enthusiasm get the better of them; the crowd's fervour, the excitement of coming up against Madrid for the first time. Perhaps they looked in the mirror and saw Germans dressed as Italy, an unbeatable combination; at least in chromatic theory (the team hasn't won a league title for 56 years). It's easy to say so now, but Schalke should have come out dressed as miners – helmet included – ready to get themselves dirty and with no other aim but to come out again in one piece. This game was no fiesta, as the men in blue and white had believed. Poor guys.
To get over this traumatic experience, Schalke should stretch out on the chaise longue and look back on the first five minutes, when they put together a corner and a header from Benedikt Höwedes, when Joël Matip robbed a ball from Cristiano and Gelsenkirchen had the feeling that the ogre wasn't so bad after all. They were moments of happiness – moments of deceptive happiness. Even Kevin-Prince Boateng, who was nowhere to be seen for the rest of the encounter, tested Iker Casillas's positioning with a header.
With 12 minutes gone, Karim Benzema opened the scoring. Gareth Bale plotted his way to the area and linked up with Cristiano, the Portuguese catching the defence off guard with a backheel. Reading his team-mate's intentions, Benzema made his finish look easy.
But that wasn't the turning point of the match. That came a minute later, Schalke immediately responding with a ferocious advance and Jefferson Farfán sending the ball into the area. Julian Daxler's shot, almost at point-blank range, would have been a certain goal if any other goalkeeper had been in front of him. However, Casillas fended him off with some part of his body, probably one of the feathers in his wings. His save, completely inexplicable, utterly demolished Schalke's morale as it dawned on Jens Keller's men that they weren't up against humans, but beings from another planet.
Shortly afterwards, the second goal arrived. Benzema robbed a wretched Felipe Santana of possession and fed Bale, who advanced on the goal with the ball on the sawn-off shotgun that is his left peg. With every step he appeared to be loading his gun, to the growing terror of those around him. His approach was worthy of Conan, but the finish was sublime: cutting inside Santana, he showed Iniesta-esque close control and shot with a touch of toe-poke and a heavy dose of dynamite.
Schalke felt aggrieved, but the downpour was only just getting going. Amongst other things, one explosive cyclone was yet to hit: Cristiano. After half an hour, he shot against the post. Immediately afterwards, he was denied by the goalkeeper, and came up against Ralf Fährmann once more before the break. The forward's frustration must have deluged a half-time dressing room in which all his team-mates had smiles on their faces.
Thankfully, Cristiano did not have to wait long to find relief. With 51 minutes on the clock, he flummoxed Matip with a stepover and fired past Fährmann with a powerful left-foot shot.
Five minutes later, Benzema – who had a hand in everything that was good about Madrid, and there was a lot of that – scored again. Coming in off the wing, he exchanged passes with Cristiano and beat Fährmann. The interplay between Cristiano and Benzema gave off such a sense of naturalness that, more than team-mates, they seemed brothers. Twins, even.
Had it not been for Fährmann, the home side would have suffered an even worse defeat. Without his saves, Cristiano would have sealed the next Ballon d'Or at this early stage. Nevertheless, it continued to rain goals. Bale made it five in a piece of play that was highly unusual: the Welshman waited for Sergio Ramos' pass as if waiting at the starting blocks, eyes on the defensive line and standing at the limit of offside. What followed was a gallop and a flash of light. That's all I know. That's all Fährmann knows, too.
Santana, the only Schalke player on the pitch who had tasted victory over Madrid (he played for Borussia Dortmund last year), completed his night to forget by bringing Jesé Rodríguez down in the box. The referee must have felt too embarrassed to give the spot-kick. Cristiano didn't see things that way, though. In his book, you don't honour fallen enemies with candles, but with goals – and he hit the sixth, his second of the night.
With time up, Klaas-Jan Huntelaar's magnificent volley ended Casillas' clean-sheet record. A nice way to end a great story. Bayern aren't alone. Madrid also have the world in raptures.