BARCELONA
ETB: Ref pushed and insulted by Barça players in Anoeta tunnel
According to the media group, David Fernández Borbalán was surrounded by Barcelona players angry at coach Gerardo Martino's half-time dismissal.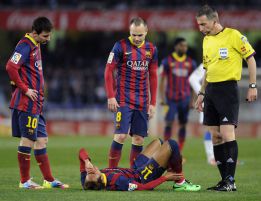 ETB has reported that Barcelona's players pushed and insulted referee David Fernández Borbalán in the Anoeta tunnel on finding out that coach Gerardo 'Tata' Martino had been sent off at half-time of Saturday's defeat to Real Sociedad.
According to the media group, the official was surrounded against the tunnel wall as angry Barça players unleashed a verbal volley over Martino's dismissal, which came about after the Argentine was involved in an exchange with Real Sociedad assistant Chema Lumbreras.
Real Sociedad's players, says ETB, looked on "astonished" at the incident, with events escalating to such an extent that Jagoba Arrasate's men were forced to separate the Barça players from the referee and his assistants. According to ETB, Fernández Borbalán surprisingly opted to include only Martino's sending-off in his match report.