REAL MADRID
Jesé is a prodigious talent – Ancelotti
Real Madrid's coach spoke about the youth team graduate to Corriere dello Sport, comparing him to ex-AC Milan player, Pato.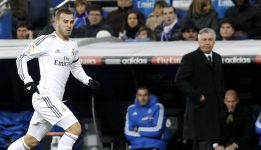 Carlo Ancelotti granted an interview with Italian daily, Corriere dello Sport in which he was asked his thoughts on Real Madrid's new kid on the block, Jesé Rodríguez. The coach was full of praise for the youngster and revealed that Clarence Seedorf has called him for advice on AC Milan's Champions League meeting with Atlético.
Jesé: "He is an amazing talent and he's still not even 21 years old. I have coached other players like him, he reminds me a little of [former AC Milan forward] Pato".
Balotelli: "What Balotelli needs is exactly the same as Cristiano. Talent must be accompanied by a professional outlook. In today's game, talent on its own is not enough".
Seedorf: "Yes I have spoken with Seedorf. It was inevitable – 'The Panther' is a great friend of mine. He asked me for information on Atlético de Madrid but he knows exactly how to confront the game. Clarence has no fear; he is a man who has great ideas. He will need patience but I'm certain that he will achieve whatever he sets out to do".
Atlético: "Their style of play and attitude is a reflection of their coach, Simeone. They are strong, compact, tough and have a fighting mentality. They are a difficult side to face up to – they don't gift you anything at all. Milan have to be alert to their counter-attacks and their expertise at set-pieces".
Arturo Vidal: "It's true that we need another midfielder but a lot of people seem to have forgotten that at the end of the season, we'll have Khedira back. In the meantime we have the chance to bring though younger players like Casemiro and Illarramendi".