REAL MADRID
"Ancelotti keeps us on our toes; he doesn't create problems"
Dani Carvajal spoke about Jesé during a promotional event on Monday: "He's making the most of the opportunity," the full-back said.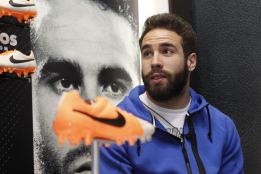 Real Madrid right-back Dani Carvajal unveiled his new boots at Madrid sports shop 'Solo Porteros' on Monday and afterwards, attended the media.
Schalke 04: "They are quite a well-balanced side, they don't seem weak at the back to me – they have some quality defenders but maybe it's just that they are stronger in attack, especially with Draxler and Farfán. If we give 100 per cent, and do what we have to do then I think we can get through to the next round".
This season on a personal level: "I didn't really expect to be back so quickly. I am working hard to be up to the required level and the coach is giving me confidence. I am alternating with Arbeloa but I'm working to play more regularly".
The battle for top spot in the league: "Our minds are focused on Saturday's game, beating Elche and collecting three more points. The three of us are closely bunched at the top but we are not thinking about our rivals, clinching top spot depends on us".
Jesé: "I've known him quite a while as we were together in the lower categories and I'm not surprised at how he's performing. There are no limits to how far he can go. He's in a golden moment of form right now and the team really notices it".
Possible call-up for Spain for you and Jesé: "Jesé's a great player, who is hitting form but the person who will decide is Del Bosque. For me, my priority is to do my job well, gain more minutes with Real Madrid and with the Under-21s and if I receive a call from the senior side, I will accept with open arms".
The key to Madrid's run of results: "We are a group and all of us contribute. We are united as a team and now have found a sense of equilibrium. At the start of the campaign we struggled because there were so many new players in the squad and on top of that, the boss was trying to introduce a different style of play".
Jesé, a regular starter? "Why not? He's really making the most of the opportunities he's getting. Here at Real Madrid, we don't really have first and second choice players; the coach decides who to field depending on who is in form and he has been rotating the side quite a lot. It means that all of us have to be constantly on alert".
Ancelotti: "I've got no complaints at all about him. He is unambiguous – he's exactly the same person you see in press conferences. He maintains harmony within the squad and creates a good atmosphere. He keeps all of us on our toes and never creates any problems with anyone".
Manchester City vs Barça: "I'm a little indifferent about it even though it's an attractive tie. If you want to win the Champions League, you have to beat the best teams. May the best team win".