COPA DEL REY | ATLÉTICO - REAL MADRID
Simeone: "Is it uncomfortable being where we are? Yes"
The coach spoke ahead of tomorrow's clash with Madrid: "I've always said that I want us to be uncomfortable and now we are".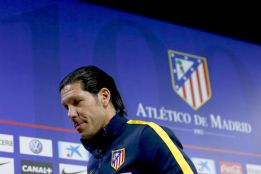 Atlético Madrid coach Diego Simeone spoke in this evening's pre-match press conference ahead of tomorrow's Copa del Rey semi-final return leg meeting with Real Madrid. El Cholo tried to avoid entering into the debate about Spain's referees and insisted that he will be fielding his strongest side at the Calderón on Tuesday.
Pulling off a comeback: "We still have the same mindset we have had all season. We still believe we can win a tie which has become very difficult for us to win in which everyone will need to go our way."
Expected attendance: "I hope many fans come, it's a fantastic game to go to."
Probable line-up: "I am thinking about fielding the same team as I would if it were a league or Champions League game."
Debatable refereeing: "We have to look at ourselves and concentrate on improving. We were top of the table but have since been overtaken by Madrid and Barça. That is the fruit of hard work. I am not going to criticize a referee for giving a decision against us. I just focus on what concerns us. The controversial decisions are for you, who are great critics, to write about – and that's what you are paid to do".
You once said that you wanted Atlético to become an uncomfortable side... "Yes, I think we are uncomfortable and I always said that I wanted us to be like that. We are battling for third place with a sense of disharmony – the team is battling, playing, working... but we won't be looking for any excuses. We have to be united and work even more."
Absence of Diego Costa: "I'm thinking more about how we can beat our opponents than Costa [suspended for the return leg], about what errors they might make. Diego is in extraordinary form, he has scored many goals, he is battling for the Golden Shoe and playing for the Spain team will do wonders for him. But it's difficult to maintain this high level he has reached at all times and you expect that he will have one or two poor games."
No excuses: "I don't believe in making excuses. Things happen and will continue to happen. For example look at the Bilbao game, the ref's going to spend a month on the sidelines for messing up his report."
Are Atlético getting the praise they deserve? "I think so, although the important thing in football is where you end up, not the journey. We will discuss [the team's objectives] when we are fighting for the title or 20 points behind the league leaders."