REAL MADRID
Ancelotti: "I hope we can emulate the basketball team"
Real Madrid's coach gave his thoughts on the Liga BBVA's referees in Monday's pre-match press conference.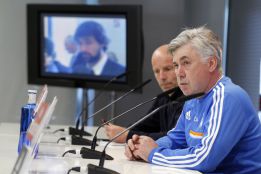 "First of all, I would like to congratulate the basketball team, their coach Pablo Laso, and their players for the great work they are doing. I hope we can repeat their success," began Carlo Ancelotti in Monday's press conference on the eve of his side's Copa del Rey semi-final decider against Atlético.
Marcelo and Coentrão: "Both of them are available but I haven't decided on my starting line-up for tomorrow's game yet. We'll see tomorrow but both of them are able to play".
Pepe and Ramos, one booking away from suspension, could miss the final: "We've got no problems with that. Varane will play and either Pepe or Ramos will rest. Varane needs playing time and the other two both need a rest".
Ugly scenes during the first leg: "As I have already said, matches between two teams from the same city are always more intense than others. There is always more pressure and intensity. Words might be exchanged on the pitch but all we are concerned about is preparing for a game, it's as simple as that".
Players to due to convene on the night of the game: "I don't think it's a big problem is the players have to stay overnight at the team residence ahead of game like this. We need to play with the same intensity we showed in the first leg to avoid any surprises".
Thoughts on refereeing in Spain: "I think the main difference between the refereeing here as compared to other countries is that the pressure is greater here. When you are under pressure, doing your job becomes more difficult. In England, it's easier for the referees – they're under less pressure than here in Spain or Italy".
Bale, Cristiano and Benzema to start despite Jesé's recent form: "It's impossible to talk about who is first choice during the whole season. Jesé is an important player for this squad – as id Bale, Cristiano and Benzema. Coaches are lucky in that over the course of the season, there are a lot of games to play".
Do you think you're being fair to leave Isco out? "That's a very difficult question to answer... as for being fair, I am not here to work for one particular player – I am here to work for Real Madrid and for that reason, now and again, it may seem that I am not being fair with certain players. It's understandable that Isco is upset and it's normal that he is keen to play. Like I say, at the moment, he is being penalized a little but I hope that by the end of the season, I can say that he is an important player for the team. He does well when he plays and I have no doubts about his talent or his future here".
Juanfran's comments about Madrid and Barça receiving favourable treatment: "I think that, at this stage of the season, there are some teams who are having good luck and others having bad luck".
Cristiano, suspended until the league meeting with Atlético: "Cristiano always wants to play. I don't think he'll be any hungrier against Atlético for what's happened. I just hope that we have done a good job with our appeal".
Madrid's reaction in the league title race: "We're doing well because we're alive in three competitions. We're upbeat and eager to do well and that's pleasing as we are entering the important part of the season".
Real Madrid squad:
Goalkeepers: Casillas, Diego López and Jesús.
Defenders: Sergio Ramos, Pepe, Varane, Arbeloa, Carvajal, Coentrão, Marcelo and Nacho.
Midfielders: Xabi Alonso, Illarra, Isco, Bale, Casemiro, Modric and Di María.
Forwards: Cristiano Ronaldo, Benzema, Morata and Jesé.