REAL MADRID
Ancelotti: "Jesé with Spain? We have to be careful with him"
"He is still a very young player but he is level-headed. Real Madrid are very lucky to have such a talented played come through their youth ranks".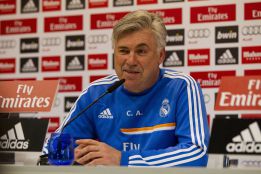 Jesé, the Spanish national team and Brazil 2014: "I am very pleased with the work he is doing – we all are. He has come on a lot and is playing well. But he is still young and we have to be careful with him. It's not the moment to be talking about what might lie ahead in the future".
Jesé, a potential Ballon d'Or winner in the future: "As I say, this isn't the right time to be discussing such things. Real Madrid are very lucky to have such a talented played come through their youth ranks. The youth coaches did a great job last season and now we have a player who is ready to play for the first team. His development isn't over yet though. He is a great talent, everyone is in agreement about that but this is his first season with the first team and he needs to continue working. He needs to understand that he still has to keep improving and we have to help him with that".
Bale under pressure: "Everyone is happy with how Jesé is doing. With him, we are a stronger team and that makes everybody happy, including Bale. At the start of the season, people doubted that he could bring something to the team".
Tomorrow's rivals, Villarreal: "We played a very intense game [against Atlético] on Wednesday and to beat Villarreal, we will need to put in a similar performance. They are a good side and we struggled against them when we met them earlier in the season. It will be difficult because of the effort we had to put in on Wednesday but I am confident that my players can play another intense game".
Rowdy behaviour in the derby: "I've played in many derbies and I know that there is always great rivalry an sometimes, there can be confrontation on the pitch. I am proud with how my players performed and I didn't need to say anything to them because they played well and with intensity".
Cristiano's three-match ban: "I am still planning on listing him for tomorrow's game - until the Appeals Committee say that his suspension stands. We'll see what happens. The issue about the referee is nothing to do with me and I don't want to talk about it, I'm not interested".
Injury concerns: "My only worries are Xabi Alonso, Di María and Pepe".
Bale's injury: "I always tell the truth and when I don't need to tell the truth, I don't say anything. When I said that Bale would be rested for Wednesday's Cup game, I explained the reason why we shouldn't risk him – he could have suffered a relapse. He has simply had a knock to his calf in training after which he was out for 20 days but now, he's fit to play".