COPA DEL REY | REAL MADRID-ATLÉTICO MADRID
Ancelotti: "Cristiano's behaviour in Bilbao wasn't that bad"
"He wasn't happy because the red card was harsh and he was provoked, as you expect in games like that. They were fouling him very often and provoking him."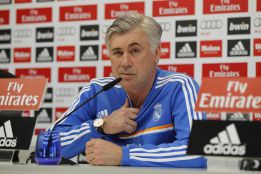 Carlo Ancelotti has played down Cristiano Ronaldo's actions at San Mamés during Real Madrid's 1-1 draw with Athletic Bilbao, which lead to the Portuguese forward being sent off with 15 minutes remaining of the game.
Speaking in a press conference before the first leg of Madrid's Copa del Rey semi-final tie with neighbours Atlético Madrid, the coach also stressed that Gareth Bale would be available to face Diego Simeone's men, and revealed that Álvaro Arbeloa and Fabio Coentrao would start at right-back and left-back respectively.
Will Cristiano be able to start tomorrow? "I don't think we'll have to wait and see what the Committee says about it because I'm certain he's not going to be given a long ban. Cristiano will play tomorrow."
What did you think of Cristiano's behaviour against Athletic? "I don't know. I don't think it was that bad. He wasn't happy because the red card was harsh and he was provoked, as you expect in games like that. They were fouling him very often and provoking him. What he did wasn't that bad."
How are you aiming to beat Atleti?: "It's a Cup tie and we have 180 minutes over which to win the game. It won't be easy because they are a tough defensive team and they are very strong on the counterattack. We'll have to be at our best. They beat us in the league but Real Madrid have improved a lot since then."
Bale: "Gareth Bale is available for tomorrow. He has recovered well, has trained well and he will play. He has done very well in certain moments this season, in others he has had a few problems. He will be much better next year, because he will have had a pre-season and he will have adapted more to Spanish football."
Could you compare Bale's adaptation to Modric's struggle in his first year? "The first year was difficult for him because he was in a different culture and had to learn another language. Now he has got used to it and he has improved a lot. Modric's quality and ability has given us more speed on the ball, more possession."
What does Jesé have to do to become a starter? "Jesé is already a starter - he started in Bilbao."
Why did you put Illarramendi on when the score was 1-1: "I put on a more defensive player because we were a man down and we had to defend more, so that's why I put Illarramendi on."
Varane: "He could play tomorrow but if he doesn't, he'll play on Saturday (against Villarreal). He's in very good shape."
Full-backs: "Tomorrow Coentrao and Arbeloa will play."
Do you believe Simeone when he says Atlético are not favourites? "Simeone doesn't believe it either. He's doing a fantastic job. Everything's going well for him. You expect a coach who didn't start the season with his team as favourites to maintain that same message, despite being top of the league, in the semi-finals of the Copa del Rey and the last 16 in the Champions League. He wants to take the pressure off his team."
Atlético, the only team Madrid haven't scored against this season: "We deserved to lose against Atlético but tomorrow we're going to play differently against them. Real Madrid have changed a lot since that game, we are more natural on the ball and more solid. Atlético have kept the same style. Tomorrow is a derby, so it's not more or less important than a league game, Every derby is important for the fans."
The importance of the fans: "The role of the Bernabéu crowd is going to be important tomorrow, it's a derby and we're going to have a lot of support from our fans. It's vital that we keep a clean sheet, and we'll try and go out to win the game."