REAL MADRID | RONALDO
Madrid will argue CR7 didn't gesture at the fourth official
The club will present video evidence to the Competition Committee that they say shows Ronaldo wasn't looking at the official.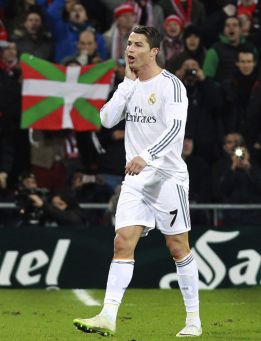 Real Madrid will use the television images of Ronaldo raising his hand to his face (in a gesture that in Spain means that the person gestured to is shameless) to defend the player. According to the club the video shows that the gesture wasn't aimed at the fourth official, as the match report states, because he isn't in Ronaldo's line of sight.
Real Madrid will present this argument in the appeal they intend to lodge with the Competition Committee, who will decide on the case on Wednesday.
In one of the bits of footage of the incident Cristiano is seen walking towards the fourth official, who turns and walks away, out of the image. Several seconds then pass before Ronaldo raises his hand to his face, which according to Madrid means it can't have been aimed at the fourth official. It may have been directed at the club's pitch-side representative.
In the match report it expressly states that Ronaldo made the offensive gesture at the fourth official. It will be up to the Competition Committee to decide whether to accept this version, or take into account the footage provided by Madrid. If Cristiano isn't successful in persuading the Committee of his innocence he could face an additional ban of two games for the gesture, in addition to the likely one match ban for the red card.