REAL MADRID
Error in referee's report could avert sanction for Cristiano
Ayza Gaméz said that Ronaldo struck an opponent when the ball was out of play - but the ball was in play when he touched Gurpegui with his hand.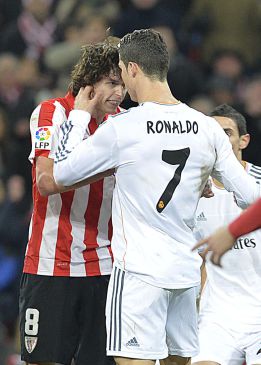 Real Madrid are already preparing their appeal against the red card Cristiano Ronaldo received in the 75th minute of Sunday's 1-1 draw with Athletic Bilbao at San Mamés.
And the referee's match report plays into their hands.
In the written part of the report, referee Miguel Ángel Ayza Gámez wrote: "In the 75th minute the player (7) Dos Santos Aveiro - Cristiano Ronaldo - was sent off for the following reason: striking an opponent in the face with his hand, while the ball was out of play."
However, the replays show that when Cristiano Ronaldo hit Carlos Gurpegui's face, the ball was still in play.
Ayza does not name which Athletic player Ronaldo hit, but if he was referring to Ander Iturraspe, who also had a confrontation with the Portuguese, Cristiano did not strike the midfielder, he just brushed his face. Therefore, in theory Madrid could avoid a sanction for the red card. The Spanish Football Federation's Discipline Committee will meet on Wednesday morning to decide whether Ronaldo is punished.
The sanction that Madrid will find harder to avert, even though they will appeal against it nonetheless, is Ronaldo's actions after being shown the red card (lifting his hand to an opponents face after the red card). There are precedents. If he is given a two-game ban he will not be able to play against Villarreal at the Bernabéu or against Getafe the following week.
But whatever happens, Ronaldo will be able to play in both Copa del Rey matches against Atlético Madrid.