LIGA BBVA | ATLÉTICO 4-0 REAL SOCIEDAD
Atlético Madrid see off Real Sociedad to go top of La Liga
The Rojiblancos are outright leaders after a clinical display. Villa opened the scoring before departing injured. Diego completed the rout on his return.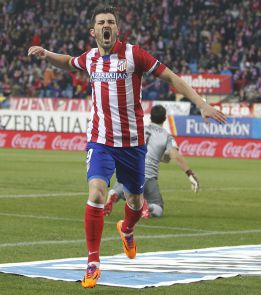 Win, win and win again. Luis said it, Atleti do it. On one of the most emotional days in its history, the Calderón summed up what life is about in two hours: pain, tears and pride as it remembered one of its legends; hard work, uncertainty, character and happiness as victory put Atlético top. It was no ordinary occasion, and the match brought no ordinary outcome: the Rojiblancos had not led La Liga outright since 25 May 1996, the final day of the double-winning season, when their now coach was still scoring goals. January has come and gone, and Atleti are still there.
The pre-match tributes served as a reminder that true sentiment doesn't need bells and whistles. A beautiful video, a stadium drenched in tears and veterans on the pitch with a huge shirt bearing the number 8. Huge, yes, but not too huge for a man of Aragonés' stature. With emotions running high, it remained to be seen how events would affect the team. Another Atleti would have let things get the better of them, but not this side. Within four minutes, Diego Costa was already wreaking havoc in the visiting defence as he barged his way into the area, a light shove taking the sting out of his shot as Claudio Bravo gathered. However, the forward's charge dispelled the atmosphere of nostalgia. It was time for football.
Real Sociedad coach Jagoba Arrasate sprang a selection surprise, leaving out Imanol Agirretxe and banishing Carlos Vela to the exile of centre-forward. The Mexican, a regular thorn in the side of the Atleti defence, suffered an evening of misery, isolated from the play and living under the imposing shadow of Miranda and Diego Godín. Antoine Griezmann did not exert the influence expected of him, either, and the first half was comfortable for the hosts, who missed Arda Turan but controlled proceedings with aplomb.
Mario Suárez started for the first time following a three-month absence, while José Sosa kept his place and again impressed. His influence isn't decisive, but he adds to the team. Carlos Martínez, meanwhile, had the opposite effect for La Real, gifting Atlético a lead that they had been unable to carve out by themselves. In the 38th minute, the full-back lost the ball to Emiliano Insúa close to his area, the Argentine feeding Diego Costa to lay on the first goal for David Villa, who has quietly notched 11 league goals this term. It was touching that the opener was scored by the only Colchonero to have played under Aragonés. After the emotion of his celebration, Villa suffered injury and was forced off.
After the break, La Real showed why they are near the top of La Liga this season and took a step forward in the match. For 15 long minutes – culminating in a double chance for Ion Ansotegi – Atleti seemed vulnerable to the possibility of tarnishing the tribute to Aragonés. But then came the return of Diego. The Brazilian landed in Madrid on Saturday, and by Sunday he was already busy changing a game. What a signing.
With their old-new idol on the field, Atleti stopped treating the ball is if it were smeared in dung and regained their composure. And, to top it off, Sociedad decided to give them a hand. This time it was Vela who lost possession in absurd fashion in midfield, allowing Raúl García to pick a superb, defence-splitting pass for Diego Costa. The forward took full advantage, capping off a tremendous performance by reaching 20 league goals.
At 2-0, Sociedad disappeared completely, leaving only an excellent team, Atleti, and thoughts of Aragonés. Miranda rounded off a complete display with a powerful header from a Koke corner to make it 3-0 and, although Bravo staved off the fourth with a good save from Raúl García, destiny was decked out in red and white (with the number 8) and determined that the story should end with a goal from Diego. Cebolla Rodríguez set it up, and the new arrival fired home.
With a Copa del Rey visit to Real Madrid coming up, Atleti are outright La Liga leaders. Luis is no longer with us, but his legacy is eternal: win, win and win again. Atleti are on the case.