BARCELONA | NEYMAR
Total cost of Operation Neymar: up to 130.2 million euros
This figure includes the signing fees, other payments and 44 million in salary, at 8.8 million a year for five years.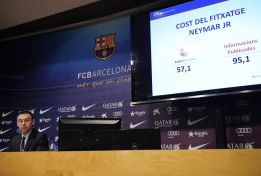 The total cost of the Neymar operation is 130.2 million euros, according to Raúl Sanllehí, head of football at the club. Barcelona break the figures out as follows:
Signing fee: 57.1 million
Other payments on signing: 29.1 million
Salary: 44 million (8.8 million a year for five years)
Raúl Sanllehí was with new Barça President Josep Maria Bartomeu to explain the costs of the transfer, and did so comparing the reality according to Barcelona with what has appeared in the press. According to Bartomeu the club are able to disclose the information because Neymar's father called Barcelona to say they could break the confidentiality clauses in place.
According to Sanllehí the 57.1 million is made up of a payment of 17.1 million to Santos for the player (who had one year left on his contract) and 40 million to the company N&N, who according to the Barça executive stands for Neymar & Nadine, the father and mother of Neymar. Sanllehí said Neymar Jr. has no holding in the company.
The other amounts are made up of:
Marketing: 4 million euros (0.8 million a year for the duration of Neymar's contract)
Social work with Neymar's Foundation: 2.5 million (0.5 million a year for five years)
Collaboration between Santos and Barcelona: 7.9 million (related to young players at Santos)
Scouting N&N: 2 million (This is for scouting work carried out by Neymar's father over five years).