BARCELONA | NEYMAR
Barça paid 95 million euros for Neymar, according to court
By ignoring club member Jordi Cases, Barça have opened up a can of worms around Neymar's signing. El Mundo reports that the deal cost 95 million euros.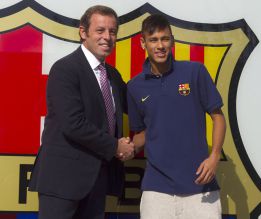 When the Barcelona board, led by president Sandro Rosell, ignored a certified fax in which club member Jordi Cases asked them to explain what had happened to the 40 million euros paid by Barça on top of the 17 received by Santos as part of Neymar's summer move to the Camp Nou (declared at 57 million by the Catalan outfit), they were certainly guilty of arrogance.
On that day, they could have met Cases to explain: "Look, we paid 17 million to Santos and 40 more to his father as a signing-on bonus, because otherwise he would have gone to Madrid." And that would have been that. Cases would have believed the club's version of events without asking the questions that are now mounting up.
But no. Barça and the board chose to pass over a request made by an ordinary club member. However, Cases is one of those people who isn't afraid to make a nuisance of himself or keep his word, no matter who he is up against. In his letter to Rosell he had warned: "If you do not respond in two weeks, I will take any legal action I consider necessary." Rosell ignored the request, and Cases proceeded to file a lawsuit with the High Court.
This led prosecutors to demand that Barça submit Neymar's contracts, in order to decide whether to accept Cases' case. And, according to the story published in El Mundo on Monday, further aspects for discussion have been discovered within the documents.
Aspects that Cases and his lawyer could never have imagined, but which would never have been discovered without his intervention. El Mundo published all of the figures contained in the contract, which add up to 95 million euros: 38 more than the amount declared by economic vice-president Josep Maria Bartomeu.
The report in El Mundo, signed by Eduardo Inda and Esteban Urrieztieta, highlights payments that until now had remained hidden: 8.5 million in commissions to the player's father, as well as a signing-on bonus of 10 million. The question is whether they were paid before or after Barça's confirmation that the club had spent 57 million. In that moment it could have been true; the contracts could have been increased later, as in the case of Barça and Santos' tacit acknowledgement of the 7.9 million handed over for the rights to three players, plus 9 million for two friendlies. These payments lead to a total of 73.9 (the figure this newspaper has always valued Neymar at) and mean Barça certainly forked out more than 57.
Alongside this sum, says the newspaper, are commissions for collaboration in social projects in the 'favelas' (2.5 million), the scouting of promising young Brazilian players (2 million) and the attraction of investors in Brazil (4 million).
On top of these million-euro figures, there is also the required 5% commission charged by Neymar's father and agent (2.6 million euros) on the difference between 57 and 95. Either way, the Barça president was guilty of arrogance. It remains to be seen whether he was guilty of other transgressions too.