LIGA BBVA | LEVANTE 1 - BARCELONA 1
Tata: "Drawing doesn't worry us; we'll win 9 of the next 10"
Barça's coach gave his reaction to the 1-1 draw at Levante: "As far as our finishing was concerned, it wasn't our best day."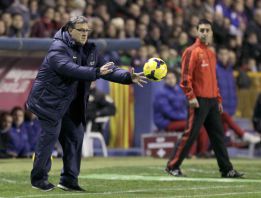 FC Barcelona coach Tata Martino faced the press after his side were held to a 1-1 draw at Levante and admitted, "As far as our finishing was concerned, it wasn't our best day. It's not worrying for the future when you consider that at the start of the season, we were winning without playing well. Now, what is happening to us is the exact opposite. The result is a little negative because it doesn't reflect the game we put in. I would be more worried if our game had deteriorated but this draw isn't a big worry because out of the next 10 games, we will win nine".
Bad result: "We shouldn't have drawn this match for the level of football we played. We didn't have much luck with our finishing and when you have days like this, there's not a lot you can do. We tried from every angle, from outside the box and inside. Levante's keeper put in a great performance. I don't think that it was because we were not at the required level".
Levante: "Tactically, they used the same tricks as they did in the first round of matches. When we met them earlier in the season, our finishing was more clinical. Levante hit us on the counter attack a number of times in that game but they didn't get to do that tonight. They have improved a lot since we last met them".
The ref: "I haven't spoken with the ref. I'll wait for him and have a chat with him later in the dressing room".