BARCELONA
Martino: "We'll need more than 100 points to win the league"
"We are where we should be at this stage and with the chance to win everything. At some clubs you have to win every game, and we're going strong on all fronts."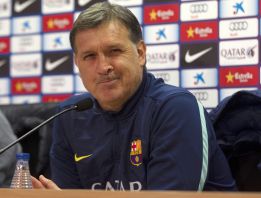 Barcelona coach Gerardo Martino spoke to the press the day before facing Levante away from home, the Catalans first game of the second half of the season.
The Catalans finished the first half of the season with 50 points and the Argentinian coach insists they will need to pick up even more points in their next 19 games to finish top of La Liga.
Levante, rigid opponents: "Teams approach games in order to do as best as they can., and we have too much quality in our team to make excuses. They will play like they always do, closing up at the back and looking to play on the counter. We will have most of the possession and will try and play how we alwas do."
Three games against Levante in 10 days: "We are going to be sick of the sight of each other! We know the games won't be similar, just look what happened between Villarreal and Real Sociedad. Villarreal's performance in the 5-1 win was sensational, one of the best I've seen since I've arrived. Four days later, La Real knocked them out of the Cup."
Iniesta: "He has been able to train almost completely normally. If this was a decisive game, Andrés would play. And unless something unexpected happens, he will be ready to play in the Cup tie."
Puyol: "It's not that I don't think he can play at 100%, but we have to use him sparingly. That's good for the team and he combines matches with training sessions. We get the feeling that the team can cope without Puyol and that, little by little, he's forgetting about his problems."
The 7-0 over Levante in Martino's first game: "The first thing I thought then is that I hope the whole season is like this. We are where we should be at this stage and with the chance to win everything. There are a handful of clubs that are obliged to win every game, and forgetting about one competition isn't good enough. We are going strong on every front."
Messi: "After his injury, he followed a different programme of training to everyone else. He has just been doing what everyone else was doing in July and August. He is now ready to offer us his best football."
Sensations mid-way through the season: "It's not the same as when I arrived. I came here very anxious, nervous but also enthusiastic about doing well. Many things have happened since then, we've had many games and with experience you feel more at ease."
Hopes for second half of season: "It's going to be very tight and if all three teams maintain our consistency we will need more than 100 points to win the league."
Manchester City and the Premier League: "I've never worked in England, this year the Premier League is very different to previous years, seven teams could win it this year. Is it easier to score in La Liga than the Premier League? I'm not sure."
Attitude of the man in the street: "I feel supported by the Barça fans, they worry more about the players than they do about themsevles."