LIGA BBVA | ESPANYOL - REAL MADRID
Ancelotti: "Morata? The answer's clear – he's not for sale"
Ancelotti feels that Cristiano should win the Ballon d'Or: "He's performed the best, he's unique for his talent and professionalism".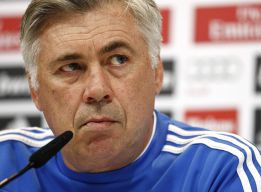 Carlo Ancelotti spoke to the media in Valdebebas immediately before the squad set off for Barcelona where they are entertained by Espanyol at Cornellà- El Prat tomorrow evening. Sunday's match could be an ideal moment for Madrid to gain ground at on the front runners and Ancelotti will be interested to see how Atlético and Barça's meeting unravels later today.
Reducing the distance at the top of the table: "We could reduced the points distance between us and Atlético or Barcelona; for us, it's very important to end the first half of the season with a victory. Espanyol is not an easy side to face and they are particularly dangerous when they're at home".
Who would you prefer to win: Atleti or Barça? "I have no real preference as such. To win this league campaign, we have to battle against some very strong sides. The season which Barcelona are putting in is nothing new, but Atlético have surprised by how well they are performing in the League and Champions League. To win this season's league title, you have to outperform both of them".
Why isn't Morata getting many minutes? What is he lacking? "He doesn't lack anything. It's only a question of competition for a place in the side. That's how it is at Real Madrid".
Possibility of Morata leaving in the January transfer window: "I haven't spoken to him about that. There hasn't been any enquiries about him nut if any club comes along to ask us about his situation, the answer is simple and clear: he's not for sale, he's not going anywhere".
Xabi Alonso's contract extension: "I didn't say anything specific to him. He wanted to stay and he's an important player for this club. Everyone wanted him to continue, he made his decision and everyone's delighted".
Xabi in the list: "Xabi's back in the squad. We'll see how he is tomorrow before deciding whether he will start the game. I have a few doubts about the line-up, I'll decide on the day of the game".
Ballon d'Or: "During the past year, the player who has performed the best was Cristiano. That's quite clear. Cristiano is unique for his talent and professionalism – he is also extraordinarily consistent".
Diego López seemed out of sorts in today's training session... "He had a little problem, I think it's some kind of stomach problem but I think he will be ok to play tomorrow. If he isn't, Iker will play".
Does that mean you might change your stance on the goalkeepers? "No, that won't change. When Diego is well, he will play in the league. If either of them suffer a drop in form for a length of time, I might consider changing the set-up but as of the moment, both of them are doing well".
Real Madrid squad list:
Goalkeepers: Casillas, Diego López and Jesús.
Defenders: Pepe, Ramos, Marcelo, Carvajal, Arbeloa and Nacho.
Midfielders: Xabi Alonso, Bale, Casemiro, Modric, Di María, Isco and Illarra.
Forwards: Cristiano Ronaldo, Benzema and Morata.