LIGA BBVA | ATLÉTICO - BARCELONA | MARTINO
Martino hints that Messi will warm the bench
Tata Martino insinuated that Leo Messi would not be included in his starting XI against Barcelona tomorrow.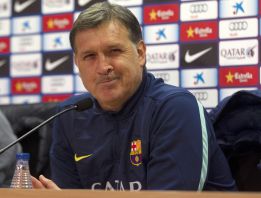 "When Messi starts a game, he likes to finish it. Sometimes it's better to pace him and bring him on when the game is in play," Tata Martino told reporters on the eve of FC Barcelona's much-anticipated league clash with Atlético at the Vicente Calderón. The coach didn't however; confirm that Messi would not feature in his starting line-up on Saturday.
The relevance of this game: "I don't think it will be decisive – we've still the remaining half of the season to play but it is important in terms of consolidating positions in the league table and the European places. [after tomorrow's match] There will be 19 games left to play and so whoever loses on Saturday will have time to recover points although that's not an ideal situation to be in. Right now, for morale, it's important.
Messi on the bench: "He's fine and played 30 incredible minutes against Getafe. He has only just come back after a lengthy period of inactivity and so we'll assess whether he's up for playing the full 90 minutes of a game like this. He's in the squad list and I will decide on the day of the game".
Risking Messi against Atleti's defenders: "I'm more concerned with how he feels than about our rivals. If you focus too much on your opponents you only end up putting yourself under pressure and making rash decisions. This game isn't taking place in April – we're halfway through January and I want to be in a position where I have all of my players available for the final run-in when the season is reaching its conclusion".
Messi's level of form: "He was decisive for us the other day and now we just need to see when he is capable of completing a full match. It's very easy to go on what5 we saw the other night and forget that he's spent 60 days on the sidelines. He's a player who, when he starts a game, he likes to finish it. Sometimes it's better to pace him and bring him on when the game is underway.
How will Messi take it if he ends up on the bench? "It's not easy to leave anyone out. If a player has had a long-term injury and the coaching staff has made a huge effort to get that player back to full fitness, it's only normal that there will be discussions and dialogue. I speak to Leo a lot, I speak with him all of the time but I don't think it's fair of you to keep asking me whether Messi will play or not when from this side; it's very difficult for me to answer. He hasn't asked me to include him in the starting XI, he will only tell me what conditions he's in and after that, I am the one who will make the decision".
Favourites to win: "Atlético are looking very strong. Between June and December, they have probably been the most solid side in Europe. That said, to use that as a reason for Barça not winning would be a lack of responsibility. In terms of strength, there's very little between us at the moment. I think we're in for a great game".
Battle of wits between two Argentine coaches: "As everybody knows, I am in this job for reasons which are far removed from football. Simeone has more experience from playing in Spain and Italy. I don't know how Spanish coaches work but their teams say a lot about them. Personally, I like Rayo Vallecano and also Real Sociedad, Villarreal, Sevilla..."
The result: "If we draw, that will give Real Madrid a chance to reduce the distance. What's at stake is the same for us and Atlético".