COPA DEL REY | BARCELONA 4-0 GETAFE
Messi: "It was great for me to get away from it all and return home"
On the chances of him facing Atlético: "I will speak to Martino and with the doctor. I just want to start playing again. If I'm fit enough to play, I will play."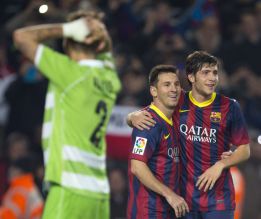 "If I am fit enough to play against Atlético, I will play," said Leo Messi after scoring two goals in four minutes to help Barcelona see off Getafe 4-0 and surely book their place in the quarter finals of the Copa del Rey.
The Argentine came off the bench midway through the second half of the first leg of this last 16 Cup tie to make his first appearance since injuring his hamstring two months ago against Real Betis.
Speaking to Barcelona's official television channel, Messi did not confirm he would start against Atlético Madrid on Saturday in the top-of-the-table clash at the Vicente Calderón, but insisted he "was as keen as ever" to play.
And he declared that returning to Argentina to recover from his hamstring problems had done him the world of good.
The match: "I couldn't wait to return. I had spent too long away from the pitch."
Level of fitness: "I have felt really good in training. I have tested my fitness in every way possible, but when you're on the pitch everything is different. Forgetting about the goals for a second, I felt really fit, I didn't feel any pain in my hamstring. Once I had gotten over my injury, I worked on my fitness so I'd be able to enjoy myself on the pitch."
Mental state: "I'm really happy to have returned to my home country. It was very good to get away from it all, and now I'm back determined to make this a great year."
Injury: "For a while I played while still feeling uncomfortable."
Atlético: "I will speak to Martino and with the doctor. I just want to start playing again. If I'm fit enough to play, I will play. I always think about what's best for the club. I am as keen to play as ever."
Strength of the Barça team: "No-one here is irreplaceable, and everyone of us always does a good job when we get the chance to play."
Ballon d'Or ceremony: "I will go, as I always do, it's always a pleasure to be named among the best three players in the world, never mind the final result. For me the most important prizes are trophies you win with your team, but it's always good to win individual awards."
Was your goal against Getafe in 2007 your best ever? "I'm not sure, but I'll never forget the goals I scored in the two Champions League finals."
Future: "My aim is to stay here and spend the rest of my career at Barcelona."