COPA DEL REY | RACING SANTANDER-ALMERÍA
Racing fans attempt to assault club president Ángel Lavín
A group of supporters, many of whom had their faces covered, jumped a fence and invaded the presidential box, throwing drinks at directors and trying to kick Lavín.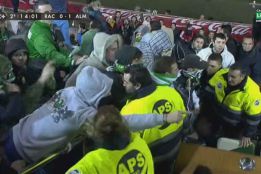 Racing Santander's Copa del Rey tie with Almeria was far more eventful away from the pitch than on it.
Despite little more than a thousand people attending the game, there was a hostile atmosphere inside El Sardinero
In the 59th minute a group of fans attacked the presidential box, throwing drinks over the club's directors and attempting to assault the president Ángel Lavín, with various sources claiming he was kicked by fans. The situation did not return to normal until Racing's private security were able to cordon off the presidential box.
A group of fans who were sat in the stand behind the goal jumped a fence and headed towards the main stand, where the presidential box is located. The fans, many of whom had their faces covered with scarves slowly made their way towards the box. A short period of uncertainty followed before the security guards were able to impose order again.
Before the game, Racing, the only team in Segunda División B still in the Copa del Rey, used the occasion to protest against the club's precarious financial situation.
The Racing players refused to start playing when the game began as a protest against the debt the club owes to its players, who have not been paid since September.
Almería, who took kick off, collaborated with the initiative and did not attack their opponents, instead passing the ball around among themselves before launching it into the stands for a throw in to Racing, who then began playing the match, which finished 1-1.
Moments after kick-off the AFE, the players' union, released a statement on its website to explain the situation.
"The Association of Spanish Footballers (AFE) wishes to announce that the protest carried out by the Racing Santander players at the start of their Copa del Rey last 16 first leg game with Almeria took place owing to the following circumstances:
"As of today, the footballers are still owed their salaries for the months of October, November and December. The club's board have now back on their promise to pay the players a part of the money owed three times. Ángel Lavín, the club's president, both in public and private, promised the squad they would receive the money owed to them by 31 December, at the latest, but that promise has not been fulfilled.
"As a result of the aforementioned, the squad is experiencing a very delicate situation, because not only are they not getting paid, but they have to carry on paying for the bulk of their personal expenses and that of their families, bearing in mind that the vast majority of them are from outside Cantabria.
"The Racing Santander squad reserves the right to not make any public declaration on this matter, referring to this statement."