REAL MADRID | XABI ALONSO
Xabi Alonso "very, very happy" after renewing Madrid contract
The Basque midfielder will see his salary rise to 6 million euros after tax, lower than what other top European clubs, including Juventus, had offered.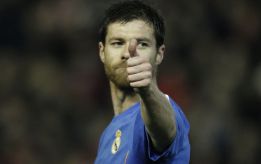 Xabi Alonso has reached an agreement with Real Madrid to sign a two-year contract extension, with the option of an additional year, committing him to the club until at least June 2016.
The player's current contract expires on June 2014 and there was panic at the cub that the midfielder would not put pen to paper and would instead leave the club at the end of the season on a free transfer.
But both parties have reached agreed a new deal.
The player confirmed the news with a message on his official Twitter account.
Alonso posted a picture of the Santiago Bernabéu stadium and wrote: "This will be my home for another two years. I'm delighted to share this with you, I'm very, very happy. Hala Madrid!"
The club then confirmed the news via statement on its official website, and announced that Alonso will hold a press conference on Friday at 13:00 CET at the Santiago Bernabéu.
The midfielder's salary will increase considerably, from 4 million euros to 6 million euros per year after tax, although it is understood that Juventus and several clubs from the Premier League had made him more generous offers.
Negotiations between Alonso and Madrid over the contract have been long and there have been ups and downs, including moments when the club thought he was not going to renew his commitment to Los Blancos.
As of 1 January Alonso has been free to negotiate a deal with other clubs, but in the last few days his position changed and he began to favour the idea of extending his contract, facilitating the deal which was agreed on Wednesday.