LIGA | ATLÉTICO - BARCELONA
Juanfran available against Barça after yellow card rescinded
The Competition Committee accepted Atlético's appeal over the caution he received against Málaga.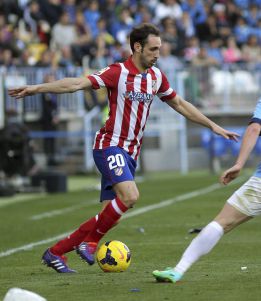 The Spanish Professional League's Competition Committee has accepted Atlético's appeal against the yellow card picked up by Juanfran against Málaga, meaning the player will be available to play against Barcelona. This would have been his fifth yellow, meaning he would have been suspended had the appeal not been successful.
Juanfran was booked in the match against Málaga for a supposed foul on Antunes, which referee Teixeira Vitienes II decided to punish with a yellow card, to the evident surprise of the footballer. "In the 53rd minute the player Juan Francisco Torres Belén was cautioned for the following reason: bringing down an opponent while competing for the ball" wrote the referee in his match report, however the Competition Committee has corrected that decision on the basis of video evidence provided by Atlético in their appeal.
The Competition Committee considers that Antunes fell on his own (stumbled or dived presumably): "Regarding the caution shown to the player Mr. Juan Francisco Torres Belén, examination of the evidence allows, effectively, to conclude, beyond any reasonable doubt, the non-existence of the facts set out in the match report, for which reason the appeal is accepted with the yellow card having no effect".
Simeone therefore will not need to alter his starting team for the game against league leaders Barcelona, who are level on points with Atlético, but ahead on goal difference.