COPA | BARCELONA - GETAFE
Tata: "Messi feels good, he just needs to play a match"
The Barça coach spoke before the cup match against Getafe about his star striker who is back to fitness.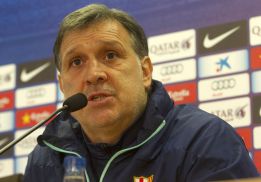 Barcelona coach, Tata Martino, spoke to the press before tomorrow's cup match and the subject of the day was without doubt the return of star striker Leo Messi, who has been out for two months with a torn hamstring.
Messi
He feels fine and he's in the squad. Everyone's fit so that's good. Leo's been doing more training sessions. Before the Elche match he'd only trained twice and now he's done more. He just needs to play a competitive match. It would have been too early to play last Sunday. We'll see if he starts or not against Getafe. Leo's work has been in line with what was possible in the timeframe. He's recovered well and worked like anyone else. Maybe's he's lacking match sharpness, but being Leo I don't think that'll be a problem. If he plays hopefully he'll score one like he did before (in the Cup in 2007) against Getafe (when he dribbled past half the Getafe side). Messi gives everybody confidence and makes us better. Everyone feels better with him alongside them. At the decisive moments having Messi and the whole group fit is the best thing that could happen. This way we've always got more options.
State of the team
You can see the team is more comfortable, both collectively and individually. We need to get better and improve with every game. We need to do well in the big games. We need to maintain our constant improvement. There's not much left, but it's the most difficult bit.
In goals
Pinto will continue in the Copa
Players out
Bartra had a few niggles, the medical examinations showed nothing, but we decided not to risk him. My instinct told me to take care. Xavi has an issue in his calf, which needs patience and Alves came back with flu, and he still looks under the weather to me.
Are you thinking about the Copa?
We're thinking about it, of course. We want to stay in the knock-competitions. There'll be enough time to think about the League and Atlético. This weekend's match is being talked about more outside the dressing room than in it. We're playing to get into the quarter-finals and a mistake could see us knocked out, which nobody wants.
Two Argentine coaches leading the League...
I think what Cholo's done at Atlético is far more impressive than what I've done here, with the squad I've got. Even more so, considering how far Cholo's side has come since he arrived.
Precaution
We need to play the match like the last 70 in the Coliseum and not like the first 20, where everything went wrong, which has been an exception in the last six or seven games.
Tata at Barcelona
We've been here for nearly half a year now and we know a lot more. We'll keep trying to work in the same way and maintain the level of play, which is the main thing. Of both the players who normally play and those who don't.
Choosing who to play out of so many stars
If I have a problem with this squad, imagine what the rest of the coaches must think. My position is much easier.