BARCELONA | TATA MARTINO
"Leo Messi is in good shape - he has that killer look in his eyes"
Speaking on Saturday, Barça coach Gerardo 'Tata' Martino explained: "Messi needs to get back into the rhythm of training with his team-mates."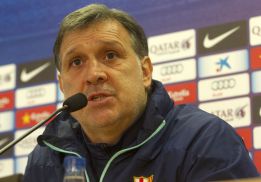 Barcelona coach Gerardo 'Tata' Martino has spoken of his satisfaction at welcoming back Lionel Messi from Argentina, admitting: "He's in good shape".
Ahead of his side's return to Liga BBVA action on Sunday, Martino was also in no mood to look further ahead than the upcoming matches against Elche and Getafe – despite a crunch encounter with Atlético Madrid looming on 11 January.
Messi: "He has come back in very good shape, he has had three very good training sessions. We already knew how he had ended the year in training in Argentina. He needs to get back into the rhythm of training with his team-mates and he needs more work with the ball. We'll see when he's ready to play as things progress. He's in good shape."
Squad: "What we've seen has left us satisfied in terms of the shape they've come back in. We have everyone except from the odd specific situation. Being able to choose from a rich squad always fuels expectations."
Elche: "They have been in a long process. Their coach has got them promoted and they have had good results, especially away."
Effect on team of interruption of Christmas break: "Nothing makes me think our level of play will drop. The players don't look like they've had days off. They look quick and precise, and that makes me optimistic that they can continue where they left off in La Liga, performing well."
Targets: "We should prepare for five months of competition, not for a one-off game. Every game now becomes decisive."
Packed schedule in January: "I think each competition is totally different. Each has in common that everyone takes part to win it, but it isn't the case that one serves as preparation for another. Five months have passed, and that was the period for us [the coaching team] to settle into the project. Our intention was to still be alive on all fronts and we achieved that. We'll take care of La Liga and the Copa del Rey now, then the Champions League."
Return of injured players: "We have a squad of a significant number. We don't have a very deep squad but it does have the necessary quantity and a lot of quality. Now we have everyone fit we'll try to continue in the same vein."
Messi return to team: "It'll depend on how he feels. He trained on Thursday, yesterday [Friday] he played at the Miniestadi, today [Saturday] he trained with the group then he did work alone. As he feels more and more comfortable, he'll be in better shape to return to the team."
Does Messi's return cause a problem? "We know the squad that Barça has. Having a lot of players doesn't have to be a problem. You have to know how to manage the squad, the players need to know the importance each has and that 11 players start each match. We also have to understand that La Liga can be lost against Elche as much as it can against Atlético Madrid."
Approach to game against Atlético: "I should maybe answer this next week, because we have another two games coming up. We have to win against Elche and Getafe; that'll give us confidence and then we can think about Atlético Madrid. We have experience of playing them in the Supercopa de España and it probably won't be very different."
How does Messi look? "He looks up for it, he looks very good physically, with that killer look in his eyes. If he is in that shape, if he feels good and above all confident (let's not forget he's coming back from a significant injury) we have a player who can bring what everyone knows Leo can bring."