BARCELONA | CESC
Cesc: "It annoys me that people think I'm lazy"
As a false number nine he scores goals; from the midfield he sets them up. AS caught up with Barcelona star Fàbregas for a pleasant chat...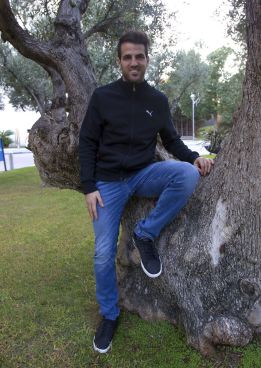 The current talk is of a campaign against Barcelona and Lionel Messi, which has led to complaints from people at the club. Do you share that conclusion?
Sometimes people cross the line, but going from that to talking about campaigns… I don't know if that's right. What I will say is that, in Messi's case, those things don't affect him.
Are you worried about his injury?
No, because he'll be fine at the most important time of the season. That's what I told him when he got injured. And, excuse me, but can I ask a question?
You ask me? Of course.
You give the points to the Barcelona players in the [on-line football game] Comunio, can you explain why Madrid players always get higher scores?
Don't tell me you're playing too!
Yes, I'm playing with my mates and you can't believe the amount of stick I get. I don't lose the plot and start being rude when I don't score well - even though Adriano was giving me pelters the other day (laughs). But, can you at at least talk to the guy who gives the points to the Madrid players, he's so generous, or give us a boost!
I'll bear it in mind! And changing the subject again... are you having a good Christmas period?
Of course: it's the first with my daughter and we're enjoying it as a family.
What's the most exciting thing about it for her?
The Cabalgata de Reyes [a traditional festive parade that takes place across Spain on 5 January for the arrival of the Three Kings, who traditionally bring presents for the children in Spain, rather than Santa Claus]. We kick off early that day, at 4pm against Elche, so my plan is to take my little girl to my family's village so that she can see the Three Kings up close.
Have you ordered the Xbox One so you can play as yourself on FIFA?
It's on its way, but I'm out of practice.
I was told that you're a pro…
In London I was often at a loose end. I played a lot and I got good at it at the time.
There's a rumour that the players take their consoles on away trips. Is it wrong?
No. We used to do it at Arsenal. At Barça we've only done it once; when we went to Mallorca the day before [the match].
And with the Spain squad?
There we play cards.
Do you think it's good for youngsters to leave the system at Barça to become more complete players?
There's a difference between my case and that of Rafinha [Alcantara] and [Gerard] Deulofeu. It's an intelligent move to send players out on loan. At that age, what you have to do is play. My case was different. That was a strange time for the club, a period in which the club was on a losing run, and so, on an individual level, it's logical that you look at getting the best for yourself. I saw people like Gerard [Piqué], Marc Valiente or Messi being moved up the ranks, [but] I wasn't. There wasn't the same confidence in me as there was in the others and you notice that. And, quite apart from that, I never thought I was going to be a footballer.
Seriously?
Never, not even when I reached the 'Cadete' level at Barça [in the club's youth set-up]. What you want, what you dream about, is one thing; but I was more focused on studying, on my friends. On leading a normal life for a 16-year-old.
And when Arsenal came in for you?
No, not then, either. I was very young and I couldn't see myself making a living being a footballer. Though I was aware that it was an opportunity to make the most of, because [Arsenal manager Arsène] Wenger told me I was going to train with the first team every day and that I was going to play in the reserves.
So you only played for fun?
Yes. Even if you're at Barcelona, you play to enjoy yourself. All the while, things happen to you at school, with your friends… After a while at Arsenal I became more optimistic [about making it], but when I was at Barça I definitely felt that it was going to be very difficult to be a professional footballer. And I could use stronger words than 'difficult'.
I guess you understand why youth products such as Jon Toral or Héctor Bellerín went to Arsenal, or why Antonio Sanabria is close to following them.
I do. We're talking about 20 lads in the youth set-up who are very good players. If we're optimistic, at most two will make it to the first team. What happens to the other 18? They might end up in Segunda División or [Spain's third tier] Segunda B, which is very respectable. But if a big club had come in for them, they'll never forgive themselves.
What about those players who have shown patience?
When I see [Marc] Bartra or Sergi Roberto I feel admiration, but there are a lot who didn't make it and who were also very good.
Would you agree that you went from freedom in the Arsenal team to a confined role at Barça?
I've never shied away from the fact that, when I arrived at Barça, I was coming from a team in which I had been captain and everything went through me. It's not that I was able to do as I liked, but I played where I thought I could do most damage. Then Pep [Guardiola, Barcelona coach at the time] and Tito [Vilanova, then Guardiola's assistant] came and told me that my problem is I run too much. I always wanted to go where the ball was and dominate the game, but of course here you look to your right and there's Xavi [Hernández], you look to your left and there's [Andrés] Iniesta, ahead of you there's Messi.
Are you aware you are often accused of being lazy and not running?
Yeah, of course I am. I know I have that reputation and it annoys me, because I don't stop moving around the whole pitch. Perhaps too much, because by moving so much it seems like I'm nowhere.
Are you only appreciated for your goals?
Maybe. But, after the game against Villarreal, which I admit was my weakest match of the season so far, I was happy because I had played a part in the move that led to the [second] goal. But when people don't see it like that you have no option but to put up with it.
Is more demanded from you because you came through the youth set-up?
I don't want to get into that because when it is published it can be interpreted in many ways. Let's say that at Barça the same is demanded of everyone.
Do you think the team needs to be freshened up?
The team has a lot of quality, so this group is sure to stay up there in every competition. But, when I signed, Pep said to me: "Now you're in the same position as everyone else. These players have won everything, but that counts for nothing and we start from zero." That's the message: knowing that every season is a new start and that [Martín] Montoya is in the same position as [Dani] Alves. There are a number of legendary players like Xavi, [Carles] Puyol, etc. and time unfortunately goes by for them, too. The game is more and more aggressive, and there's a very busy fixture schedule. We're going to have to adapt, but that's a decision for Zubi [sporting director Andoni Zubizarreta] and the president [Sandro Rosell].
The World Cup: a challenge or a dream?
It'll be difficult. We saw in the Confederations Cup that the other teams are gunning for us. We're the team to beat and the crowd isn't on our side. We'll go into the tournament as one of the favourites because we're the holders, but no European team has won the World Cup in South America and it has been a long time since a country last won the trophy twice in a row.
Is January's Liga BBVA match against Atlético Madrid almost a title decider?
I don't know if it'll decide the league, but it'll be a huge confidence boost for the winning team. Whatever happens, Atlético are among the favourites to win the league with Real Madrid and us.