REAL MADRID | CASILLAS
Casillas will exit Real Madrid in June if he still isn't number one
The Real Madrid captain would like to stay, but playing around 20 games a season isn't enough. Manchester City and Arsenal are the two most interested clubs.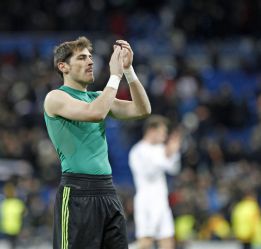 Iker Casillas has decided to leave Real Madrid in June if he continues to play a secondary role in the current set-up. He would like to stay at the Santiago Bernabéu and has already voiced this publicly, telling Spanish television show 'El Hormiguero': "Real Madrid is my here and now. I'm delighted to be here. In five or six years we'll see."
However, he is also aware that he will have to look elsewhere if he is not to be first choice in all competitions, and has resolved to do so. Manchester City and Arsenal are the clubs most interested in the goalkeeper.
City are looking for a keeper. The Premier League side is experiencing difficulties in the position this season. Having begun with Joe Hart as number one, manager Manuel Pellegrini dropped the England international for Costel Pantilimon at the start of November. On 21 December, Pellegrini then recalled Hart, who has also played five out of six matches in this year's Champions League. Pellegrini has expressly requested a goalkeeper. At Arsenal, Poland international Wojciech Szczesny is the undisputed first choice, recently signing a new, long-term contract whose duration has not been revealed by the North London club. If Casillas homes into view, however, Gunners boss Arsène Wenger is keen on taking the Spain captain to the Emirates Stadium.
Casillas must now wait until June. Were coach Carlo Ancelotti to keep faith with Diego López as number one in La Liga until the end of the season, Casillas would play 22 games at most – only if Los Blancos reached the finals of the Copa del Rey (a competition that spans nine games) and the Champions League (13 games). That isn't enough for a world and European champion who aims to be La Roja goalkeeper at Brazil 2014. If he doesn't start playing regularly, that will be far from guaranteed.
Madrid. As has been privately discussed by some Real Madrid directors, keeping a non-playing Casillas would also represent bad business for the club. Under contract until 2017, his net salary of seven million euros a season would see Madrid spend 42 million gross on the player's wages.
In terms of on-field statistics, the 32-year-old reached the winter break in better shape than Diego López. The captain has conceded a goal every 161 minutes (four in 645'), while the Galician has let in a goal every 72 minutes (21 in 1,530').