EUROPEAN COMMISSION | SPANISH FOOTBALL
European Commission to investigate Madrid and Barcelona
In total seven clubs will be looked at in relation to the receipt of illegal state aid; the Spanish government says there is no case to answer.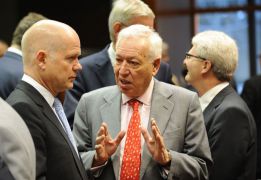 The European Commission is to open an official investigation into seven Spanish football clubs for the possible receipt of illegal state aid, according to Spanish Foreign Affairs minister García-Margallo.
The teams involved: Real Madrid, Barcelona, Athletic, Osasuna, Valencia, Hércules and Elche. The actual reasons differ in some of the cases. The minister said that the Government's position was that there had been no illegal aid "in any of the cases" and that they had the relevant legal defence prepared. "Clearly the [Spanish] Government are going to fight to the end defending these Spanish clubs, who are part of the Spanish brand" said García-Margallo.
The European Commission is investigating three different possible manners of paying the state aid. Real Madrid, Barcelona, Athletic Bilbao and Osasuna's tax status is being examined. These clubs are not corporate bodies and this may be considered to give them a tax advantage.
Real Madrid is also being investigated for the swap involving the old training ground in the North of Madrid (which was re-zoned as a business district). Athletic meanwhile is being looked at for the involvement of a public body in the building of the new San Mamés.
The investigations by Brussels have been at a preliminary stage for some time, though had leaked to the press and been the subject of parliamentary questions.
The investigation will likely be opened on 18 or 19 of December, with the parties involved having up to four months to file evidence. A decision will then be taken. If it is found that there was illegal state aid the clubs could be forced to repay the amounts involved.