REAL MADRID | ANCELOTTI
Ancelotti: "We don't need Falcao, we're scoring plenty of goals"
The coach ruled out a January swoop for the Colombian, saying that he's happy with the striker he has on board.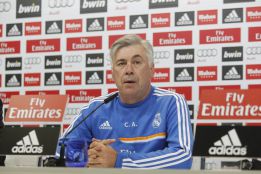 Carlo Ancelotti dismissed the possibility that Real Madrid could attempt to sign Radamel Falcao in the winter transfer window during Friday's press conference as his team prepare to meet Osasuna in Pamplona tomorrow.
Cristiano's World Soccer award: "I've spoken about the subject many times and I am happy for him. The Ballon d'Or is more important, he deserves to win it and I hope he will".
Changes in Pamplona: "I won't be making many changes to the side which played the other day in Copenhagen. The players have recovered well. It's going to be a tough game, we will need to give our best but I think we can win".
Grabbing an early goal: "We'll have 90 minutes to score so we shouldn't be obsessed about scoring early in the game. Osasuna are a very organized team and we need to be focused right the way through the game".
Varane: "He has been resting, as he's supposed to do as part of his recovery programme. His knee is much better, it's not inflamed now and yesterday, he started a programme to build back strength in the affected area. He'll continue with his recovery programme until the end of the year and should be back with us in January".
Positives to take from recent games: "The team's attitude is good. Now we have more intensity at the back and more clarity to our game. We are in a good moment of form and we have to continue with the same attitude because the season is very long".
Xabi Alonso: "I've only spoken to Xabi to tell him that everyone here - the players, the fans, myself and the club all want him to stay. After that, the decision is his".
Champions League draw: "Who we get drawn against isn't so important. Whoever it is will be difficult. All of the teams involved have different qualities, some are more dangerous than others but all of them will be tough to play against".
Cristiano Ronaldo: "It's not just now that Cristiano is hitting top form - he's been playing at this level for 4 or 5 years".
Falcao: "He's a great player but we're quite happy with the strikers we already have. The team is scoring a lot of goals and so there is no need to sign Falcao at this point in time".
Di María: "I spoke with him and I told him that the door to my office is always open if ever he wants a chat. But he didn't come. He's fine and he will play tomorrow but I don't know how long for".
Winter champions: "There are four games left until the midway point and we have to win all of them, we'd be happy with that".