BARCELONA | NEW STADIUM
The new Barça stadium will hold 105,000 fans and have a roof
According to club spokesman Toni Freixa a final decision will be made in January and then put to a referendum.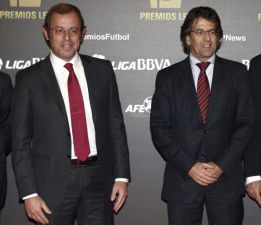 Barcelona spokesman Toni Freixa has announced that Barcelona's new stadium will have a capacity of 105,000.
Freixa did not say whether the new arena would be built on the site of the Camp Nou or on the grounds of the University of Barcelona in Diagonal, near the city centre, but insisted that if the club opted for the former option, they would opt to construct a new stadium and not simply renovate the current ground.
He told a press conference: "For the first time, the club has the results of its research. The first conclusion is that no decision has yet been made. This is a complex subject made up of many elements, a decision that is vitally important, because it affects the club's future stadium for the next 50 years. We will make a decision in January.
"There are two options: construct a new stadium in Diagonal or completely remodel the current ground, which would be the equivalent of building a new stadium. We haven't made a decision but we can reveal that the new stadium will have a capacity of 105,000 and will be covered. We will hold a referendum once the board decides what to do. The main conclusion of this study is that we need to have a new stadium, whether that's on the current site or on a different one."
Freixa would not reveal the estimated costs of either option, but insisted: "We would never consider a project which put the financial stability of the club at risk. Both options are viable on a technical, financial and urban level."
And he made it clear that neither project would have any averse effect on the team: "The first team will play all their home games at the current stadium. It won't affect the players or the members."
Freixa also refused to comment on accusations made in the Spanish newspaper 'El Mundo' that Barcelona President Sandro Rosell diverted funds from the transfer fee for Neymar, simply saying:
"Barcelona have no knowledge of that, it's just newspaper talk. It's a reckless accusation made without any grounds at all."