REAL MADRID | CRISTIANO RONALDO
"It's not the end of the world if you don't win the Ballon d'Or"
Ronaldo told Bein Sport: "I think it's not the most important thing in a career, like having a fantastic career and winning things for your club."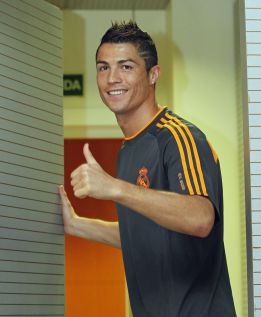 Cristiano Ronaldo spoke to 'Bein Sport' about the importance of the Ballon d'Or, the winner of which will be announced next month.
The Real Madrid and Portugal forward also spoke about next year's World Cup; Gareth Bale; Carlo Ancelotti and the late Nelson Mandela, who he met at the South Africa World Cup in 2010.
World Cup: "All World Cups are important, all competitions are important, but his one is a special one because it's in Brazil. For Portugal it's very important because we have a lot of history with Brazil, the culture, we speak the same language, so it's fantastic, we are so proud to be part of this big event. In our group Russia were more consistent than us, they played better and we dropped points that we shouldn't have lost. But it's in the past, we played the Play-offs, we won and we are in the World Cup."
Play-off with Sweden: "All the team played well, all the players played well and were focused for the game, especially myself. Not just because I scored three goals, but I think I helped Porugal to go through to the World Cup, so I'm very glad about that. The next day everyone in Portugal was speaking about the national team and we realised what we had done. It was a fantastic moment for the national team, for the Portuguese people and for many supporters in Brazil. Zlatan is an important player, he scored two goals, but I scored three."
Portugal's hopes in the World Cup: "Impossible is nothing but it will be very difficult. We are not the favourites, which is good in my opinion because it takes away some pressure. We have to be truthful - Portugal have a fantastic team, we're gonna try and win the competition but it will be very difficult. But we can see."
Favourites: "I want to avoid Brazil, Spain and Germany. I'm not saying the rest of the teams are easy. Maybe I can include Uruguay, Chile, Argentina, Italy, England too, they are difficult teams, but for me those three are the strongest ones."
Ballon d'Or: "I think it's not the most important thing in a career. Maybe it's important for many players, I understand that, but it's just an individual trophy, there are things that are more important than that, like having a fantastic career and winning things for your club. It's just one more trophy, so it's good, but it's not the end of the world if you don't win it. I can think of many great players who deserved to win the Ballon d'Or but never did, so it's just a trophy."
Winning the Ballon d'Or in 2008: "Unbelievable, it was just a fantastic feeling, not just because what I did for Manchester United, we won many many good things, the team was amazing, we won all the competitions, and I had a fantastic year too. I scored many many goals, I was the best scorer in Europe, I was the best scorer in the Champions League, the best striker, so for me it was a fantastic year and I won all the individual awards, not just collective but individually I won everything."
Bale: "Gareth is doing amazing. He started as a little bit... with some injuries, some small problems, but that's normal because he didn't do a pre- season and afterwards there was a lot of pressure, it's hard. Now he is in a good way, he helps us a lot, he's integrated into the team, people like him, the supporters and the players, hes a fantastic player and i wish he can help us to win trophies."
Zidane: "People respect Real Madrid more when they have mythical players around the team. I'm very glad to work with him he is a fantastic player and has a lot of experience. I like to be around the very best."
Happy at Real Madrid: "I feel that this is my house, my home, I feel unbelievable here, I love the club, I love the people,. the supporters. I have everything, this is why i signed the new deal. I don't know when the end of my career is going to be but at this moment I'm so proud here and I'm happy."
Mandela: "I have seen the newspapers and the messages from people all around the world for him and I think it's deserved. He was one of the most important people in the world. I had the opportunity to meet him in South Africa and for me it was a dream because of what he did for his country, what he did in his life. He passed away and it was a sad day for me and people all over the world are sad, because he was a fantastic person, a person who helped the world to be a better place. I wish the best for him and his family. He has gone to heaven and I'm sure the angels are going to be around him and protect him the whole time. It was a pleasure for me to meet him and I hope he rests in peace."
Ancelotti: "He has changed many things. He was a player before so he has experience of how to deal with players. In terms of a coach I don't have a lot of things to say because he's won everything in the past. I think he's good, I'm very glad to work with him and I have learnt many good things with him and his staff."