BARCELONA | TATA MARTINO
Tata: "We're missing the world's best player and keeper"
In today's press conference, Tata Martino spoke about Barça's injury woes and the Ballon d'Or: "The best player in the world is Messi".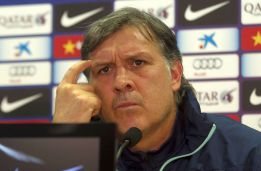 Tata Martino was in the press room on Friday, the eve of Barcelona's league meeting with Granada. The topic of the day was the mounting injury list – one which includes Leo Messi.
The international break has interrupted the team's progress: "At no point have we ever thought about not improving our game. The players we have out injured are all good players and the ones who will come in to replace them are also good players. I don't think Barça ever needs to justify itself in these kinds of situations. All we can do is acknowledge that problems can and do exist, but that's all. Now, we just have to select the best players and try to win our games. We have to keep improving".
Adama and Dongou listed but no Cuenca... "We decided to pick those two because it's still to early for Isaac to take part in an official game. He needs to build up minutes on the training pitch first. You have to understand that player like Isaac may have been given the medical all-clear but that doesn't mean he is ready to return as normal. It takes time. Adama and Dongou figure in the list for their qualities as youth team players. Dongou has played a number of games as a right winger but we see him as a centre-forward and that's the position he played in during the pre-season. As far as Adama is concerned, we feel he is one of the most important players to have emerged from the youth academy in recent times".
Casualties: "The number of injury problems we have suffered is logical compared to the number of players we have had missing at any given point during the past few years – as is the severity of the injuries. We have had players out injured for one or two games but the only serious injuries we have had are those regarding Jordi [Alba], Leo [Messi] and Víctor [Valdés]. The other cases have not been so serious".
Missing Valdés: "Having a player like Víctor out injured is always a setback and we will be without the best goalkeeper in the world, so of course, we are going to miss him. But [José Manuel] Pinto has done well whenever he has had to come in and we've won with him in goal. Somehow we have to try not to emphasize the fact that we have players out injured".
What have you said to Pinto? "We have said anything specifically; we've just spoken about strategic moves. But we've got nothing special to talk about regarding this particular game. I'm sure he'll handle the situation well as he always has".
Are you playing down how these absentees might affect the team? "I don't want to play down the fact that we have several players out or take away merits from those who will be brought in as their substitutes. I have always spoken about what a complete squad we have and so I can't see any reason why we would be weaker with players missing. If anything, it should serve to make us stronger. We're without the best player in the world and the best goalkeeper in the world, but we have others who can stand in for them during the meantime".
Extending the voting period for the Ballon d'Or: "The best player in the world is Messi. Once he has recovered he will return to become a decisive player for us – as far as the Ballon d'Or goes, it's not important – for him, for us, for his team mates. It's secondary right now. It's just an opportunity for all coaches to show their approval of their best players and I have already cast my vote in South Africa, for Messi".
When will Messi go to Argentina? "I don't want to give an exact date but approximately at some point between the end of this month and the start of December. His recovery programme will be conducted exactly as we have planned – with the backing and support of the club. We will be in constant contact with the AFA and the Argentina national side. Leo made the decision to spent the second half of his rehabilitation back home and we agree that it's the best solution for when he returns, fully recovered, at the start of the New Year".
Valdés and his saves: "There's a big difference between making a lot of saves and making decisive saves – and that's what characterizes Víctor; he might only be called on twice during a game but he saves the team and that's what makes a great goalkeeper and a great team".