REAL MADRID | ANCELOTTI
"Spain spent three nights sleeping on a plane" - Ancelotti
Real Madrid's coach was critical of how the RFEF handled Spain's recent international engagements in today's press conference.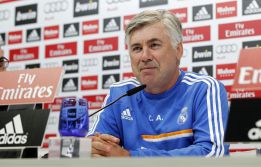 Carlo Ancelotti faced the media in Friday's post-training press conference and looked ahead to tomorrow's trip to Almería as the league action makes its return.
The physical state of the players: "It's not too good because we have a few players who are unavailable – Di María, Khedira, Marcelo, Varane and Coentrão. The others have continued working and had more days to continue their own recovery programmes but the international break hasn't been kind to us".
System changes against Almería: "During the past couple of days, we've tried to play using the same system or with two holding midfielders but I will make my final decision tomorrow".
Will Casemiro play? "We could field Casemiro or use Illarra-Xabi or Casemiro-Xabi as the two defensive midfielders behind Isco. I will decide on the day of the game".
Casemiro hasn't played since September... "It doesn't make any difference that he has not played since the start of the season – he's in perfect physical shape and he's motivated".
The squad's mentality: "It's good because everyone has returned home happy to be back in Madrid or because their national team has qualified for the World Cup finals so psychologically, they are all well. The only problem we have is with our injured players and making sure they recover well".
Injuries to Valdés and Messi: "I think they [Barça] have had similar problems to the ones we had with international commitments. We shouldn't be thinking about our rivals, we should only focus on the games that we have to play. Our last few games went well; the team has been playing good football and has the right attitude. That must continue tomorrow. It's going to be difficult for them because Almería have been playing well. We need to be very careful because after the last international break we had problems. I hope that's not the case tomorrow".
Varane: "He's got a problem with his knee and he won't play against Almería because he played with France when his knee was inflamed. It's quite common for a player who has had this kind of knee injury but we must look after him because we need him at 100 per cent2.
Are you worried about Varane? "Worried isn't the right word. We are monitoring his situation together with the player and the surgeon. I've known of some cases in which players who have suffered similar injuries have had continual problems for a year after surgery. We need to know what is causing the inflammation".
Spain's African tour: "We lucky in that, until March, there are no more international games to play. It's difficult to talk about the subject. In Spain's case, I don't think it was a good idea to play those games as it meant the players had to spend three nights sleeping on a plane. Fortunately, we didn't suffer any other problems. Better organization would help to ensure that we and other teams don't suffer any injury problems with our international players".
Cristiano's role in the dressing room: "I don't know what his role in the dressing room is. I think he has people close to him who know that he is the best player in the world right now. For us, it's helpful to have a player who is playing as well as Cristiano is right now".
Pacing Cristiano during the season: "He's going to get some rest because he is suspended for our first Copa del Rey match and so next week, he'll be given a few days off. If he looks tired to me then I will rest him but at the moment, he doesn't appear to be tired at all, he looks completely fresh".