FRIENDLY | EQUATORIAL GUINEA 1-2 SPAIN
Del Bosque: Physical Equatorial Guinea made it awkward for us
Speaking after Saturday's friendly win in Malabo, the La Roja coach also played down injury concerns over Xabi Alonso: "It's just a knock."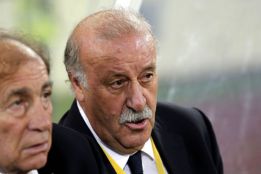 Spain coach Vicente del Bosque has admitted that his players were affected by Equatorial Guinea's tough-tackling display in Saturday night's friendly in Malabo.
Speaking to Spanish television channel Telecinco after goals from Santi Cazorla and Juanfran led La Roja to a 2-1 win, he said: "It was an awkward game for us. They were physically powerful and made it difficult for us to play. We weren't looking for confrontation. We wanted to play, and at times we were a little inhibited."
Del Bosque also played down fresh injury concerns surrounding Xabi Alonso, who was substituted late on in the first half after a strong challenge by Thierry Fidjeu. "It's just a knock," the Spain boss explained. "It doesn't seem serious."
He added: "Guinea were aggressive and we took a slight step back. They went in on the floor and we put the brakes on when we challenged for the ball. The tackles make you more cautious. We wanted to play but avoid confrontation. With their attitude, not violence, they stopped us playing."
Del Bosque also looked ahead to Tuesday's friendly against South Africa, commenting: "Everyone will be fine, including Javi Martínez. I think he'll be fit to play."