2014 WORLD CUP BRAZIL | FRANCE
"Varane's knee is inflamed" says Deschamps
The centre-back missed training for the second day running and looks almost certain to sit out Friday's Play-Off.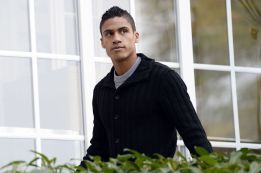 For the second day running, Raphaël Varane was unable to take to the training pitch with the France squad. National team coach Didier Deschamps explained that the defender is suffering pains to his right knee which have impeded him from taking part in Wednesday's session, and today's. Varane underwent surgery to trim torn meniscus inside his right knee back in May.
"His knee is inflamed and so he's been taking it easy. We are closely monitoring his situation. I think it's a direct result of playing two games in three days with Real Madrid," Deschamps said.
Varane's absence from training means that he is a serious doubt for tomorrow's 2014 World Cup Play-Off first leg against Ukraine – a match the Madrid defender had looked almost certain to start earlier this week. Deschamps had hoped to field Varane, Sagna, Abidal and Evra as his back four but now it looks like Arsenal's Koscielny will be deployed if Varane's condition doesn't improve.