EQUATORIAL GUINEA - SPAIN
Spanish players refuse to have photos taken with dictator Obiang
The Spaniards are desperate for their friendly against Equatorial Guinea not to be used for political purposes.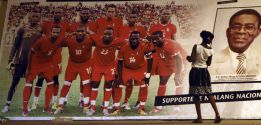 Spain's players are refusing to have their photo taken with the president of Equatorial Guinea, Dictator Teodoro Obiang. They have accepted playing the friendly in Malabo, but are not willing to be used for political purposes and have made it clear that they won't leave the hotel, except to train and play, no matter who orders it, Villar or the Secretary of State for Co-operation and Latin America, Jesús Gracía. The latter was sent by the Spanish government to Malabo yesterday. The visit by Spain to Equatorial Guinea has the blessing of the Spanish government, who are keen to get involved in the country's oil business and improve relations with Obiang.
The Dictator is very pleased with himself because "the current world champion has agreed to play without any financial compensation, thanks to the excellent cultural relations of friendship and co-operation between Spain and our country". The opposition in Equatorial Guinea however have sent letters to the Spanish Federation and FIFA pleading for the game to be suspended because it "serves to legitimise a brutal and bloody dictatorship".
Given this background the Spanish internationals have taken the following stance: to be nothing other than footballers. Contrary to their actions on previous visits, such as to Argentina, Puerto Rico or Ecuador, where they were received by the countries' highest authorities, in Equatorial Guinea they will refuse any contact which could lead to the political use of their images. The players are convinced this is the right thing to do, but they have also been advised to do so by their advisers, who have warned them of the negative impact it could have for them to be seen posing for photos with a leader who is recognised as a despot.
Del Bosque, who had already spotted the problem, said, when asked about the matter, that it was a matter "for a different spokesperson". The Spanish coach will do as little as possible to collaborate, focussing purely on his role as a football coach, but he will be pressed to have his photo taken.
The opposition to Obiang's regime have been very critical of the match, with the Coalition of Citizens and Towns of Equatorial Guinea rejecting the friendly in the following terms: "This serves to endorse, validate, legitimise and whitewash the image of the brutal, cruel and bloody dictatorship of Teodoro Obiang Nguema". The group also said that "the Spanish national side should not help with the "dirty propaganda games" of a "regime that is dedicated to rape, assassinations and the rampant theft of oil wealth".