LIGA BBVA | REAL MADRID - REAL MADRID
Jagoba Arrasate: "In attack, Real Madrid are unstoppable"
"You can end up paying for any lapse in concentration but if you're not careful against Madrid, they will destroy you".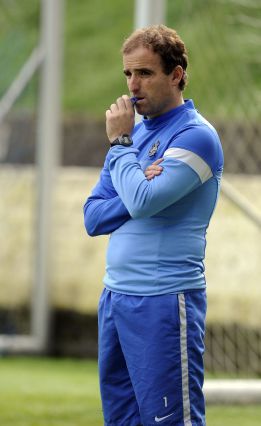 Real Sociedad coach Jagoba Arrasate previewed tomorrow's visit to the Santiago Bernabéu in Friday's press conference. The Basque outfit will be without influential midfield player Rubén Pardo who picked up a hip injury in Tuesday's clash with Manchester United.
Two big, consecutive tests Manchester United, now Madrid: "United and Madrid are completely different – Madrid are physical like United but they don't defend as strongly as United do although in attack, they have more clout".
Defend or attack against Madrid? "Both. We have to put in a faultless performance that's for sure. When we have the ball, we need to make sure we keep hold of it and attack them. It's a question of finding the balance between being creative up front and not losing possession because on the break, Madrid are lethal".
Ancelotti versus Mou: "It's too early to make any comparisons between the two but it's true that recently Madrid have been conceding more goals than before. But in attack, they are incredibly strong".
Tactical switches at the Bernabéu: "We will make one or two changes – as we have done in all of our recent games but our gameplan remains the same; the players might change but our style of play won't".
Madrid's supposed 'crisis': (Jagoba falls about laughing on hearing this) "I just recall their last two home games. They battered Málaga then put seven past Sevilla. That says it all. They are a brilliant team with the best players in the world. In attack, they are unstoppable – and that's something which they have demonstrated not just once or twice but on many occasions".
One win every decade for La Real at the Bernabéu: "Well, maybe it's our turn this time because we haven't won there in over 10 years. But everything is different now, things have changed. I won't say that before it was easier to win there but I think today it seems much harder because the difference between us is greater".
Bale, Cristiano and Benzema: "Three great players who are very difficult to stop. We have to make sure we don't gift them anything, don't get caught on the break and don't give them space to run into – but even after that, they are still very difficult to contain".
Illarramendi: "Having him on the opposite side will be a bit strange. We'll see him before the game and we all are keen to know how he's getting on but once the whistle goes, he will be our rival and we'll forget about any allegiances we have with him".
Alonso-Illarra: "I wish both of them were still here with us. Both of them are players who feel and understand what it means to be part of Real Sociedad. I wish them both the best of luck; with Xabi, Madrid are a different prospect".
Granero: "I speak with Esteban all the time. His time at Madrid was very successful and he is madridista through and through. Now he is recovering from injury but he gives us advice about other teams – including Madrid. He'll be making the trip down with us tomorrow to watch and enjoy the game".
Afternoon kick-off: "I personally don't like matches which kick-off at 4pm because it changes the way we usually prepare for games but considering who we are up against and the stadium we're playing at, 4pm is as good a time as any".
Real Sociedad squad:
Goalkeepers: Bravo, Zubikarai.
Defenders: Carlos Martínez, Mikel, Ansotegi, Iñigo, De la Bella, José Ángel.
Midfielders: M. Bergara, Zurutuza, Elustondo, Javi Ros, Xabi Prieto.
Forwards: Seferovic, Agirretxe, Vela, Chory Castro and Griezmann.