BARCELONA | XAVI
Xavi: "Tata's first message was that our style was untouchable"
"Winning the ball back in your opponents' half and then attacking quickly is not playing on the counterattack," insisted the midfielder.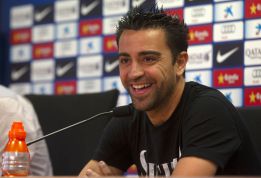 Xavi has insisted that Barcelona have not changed their style of play nor are trying to change it, despite some of the team's performances this season.
Speaking at a press conference, the midfielder also praised Neymar, who he described as being "decisive" to the team in his debut season.
The 33-year-old also defended coach Gerardo 'Tata' Martino and said he was still not considering retiring from the game.
Change in style? "Our philosophy is clear – to play good football and achieve our objectives. We know what type of players we are and our philosophy is to have the ball as much as possible. We don't have to change our style, on the contrary, we've had a lot of success because of it. There's no internal debate about it, we are all clear about it. My role in the team hasn't changed or varied, the system hasn't changed, the ideas haven't changed. I feel even more important than before, and I participate in the attack even more. The first message Tata gave us was that our philosophy was non-negotiable and untouchable."
But the team are playing longer passes and having less possession "Our objective is to have a bigger role in games, and if we play more long balls we dominate the play more. But there's still margin for improvement, and we're trying to improve, correct certain aspects, try new things, look for superiority on the pitch. Like in years before, we may have dropped our level a bit, but we're going to return to where we were."
Is it wrong to compare the team with Pep's first year? "We have no reason to say if the press are being fair with us or not. We do our job, we have reached excellence in the past and we want to do it again, but sometimes it's hard. The opponents can make it hard for you or things sometimes don't come off, but we feel good. We're on a positive dynamic and I think there is room for improvement, we want to try and reach that level but it's hard to do, even when things are going well."
Alves' comments about monotony in Barça's play: "Our work is similar, it has changed little from the past few years. We have improved in pressing high up the pitch and spreading the ball around, we've done both those things to an excellent level, but it's still difficult. We are going to try it, but we have to be self-critical. We know that Barça fans demand excellence."
Are some players saving themselves for the World Cup? "No, no player is thinking about the World Cup now, we're focused on our clubs and on competing well. There is also competition within national teams and not everyone has their place secured, so we all have to try and be at our best so we can go to the World Cup , which is another important challenge for every footballer."
Neymar: "He's an unpredictable player, he gives us depth on the wings, he combines well with his teammates, just look at his final pass. He's extraordinary and he is becoming more involved with every game. He's young and capable of winning matches by himself, and that's very difficult to find, that's why we tried so hard to sign him."
Criticism of the team: "I understand that there is criticism because we aren't at the level we were a few years ago, but the style hasn't changed at all: winning the ball back in your opponents' half and then attacking quickly is not playing on the counterattack. But it's difficult, it depends on circumstances and what a game requires, but we aren't changing our system, absolutely not."
Retirement: "I haven't considered it. I feel fine and that's what's important, when you reach 30 you take each game as it comes and you don't think beyond that. I have a contract here until 2017 and I feel fine."
Criticism of Tata: "This is Barcelona. Perhaps it is new to him but to those who have been at the club for many years we know that the level of expectation here is extraordinary. You have to always strive for excellence, this is one of the toughest clubs in the world to work at. He's doing a good job, he reunited the dressing room from the first day. He's a sports fanatic, he's doing well and we hope he continues to do so."
Why are you not in the Spain squad? "It's easy to explain. I spoke with Vicente and we decided it would be better for me if I had a rest."