CHAMPIONS LEAGUE | JUVE 2-2 REAL MADRID
Iker Casillas: "It isn't easy playing every two weeks"
After Tuesday night's draw with Juventus, the goalkeeper said: "It's hard to get into the team, so I'm happy. You have to be at your best when you get the opportunity."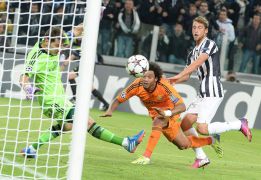 After Real Madrid's 2-2 Champions League draw with Juventus on Tuesday evening, goalkeeper Iker Casillas admitted the difficulties of not playing week in, week out.
The 32-year-old, who put in a fine performance at Juventus Stadium, also admitted: "I'm pleased with the match but I'm never happy when I concede goals."
Feelings: "It's hard to get into the team, so I'm happy. You have to be at your best when you get the opportunity, so that the coach can see that he can trust you. It isn't easy because you play every two weeks and it's difficult to keep your focus, but with everyone helping me out it's easier to deal with it well."
Real Madrid all but in the last 16: "We're very close. In the Champions League we're doing very well. We need to make sure of qualification very soon and see if we can get closer to Atlético Madrid and Barcelona in La Liga."
Conversation with Gianluigi Buffon after the final whistle: "He said well done to me for the result and the match. We said to each other hopefully we'll see each other out there again. We've come up against each other so many times. I came away with his shirt because he's a great colleague."
Performance: "It isn't easy to play games like this when there's so much time that you aren't playing. You notice that you're lacking certain things when two weeks go by [between matches]. When you see that you're confronted by challenges it makes you more determined to take them on."