LIGA BBVA | RAYO VALLECANO
"My players can pose in their underpants too – and so can I"
Rayo coach Paco Jémez is looking forward to tomorrow's visit from Real Madrid. "Ramos is a great player and I hope he plays".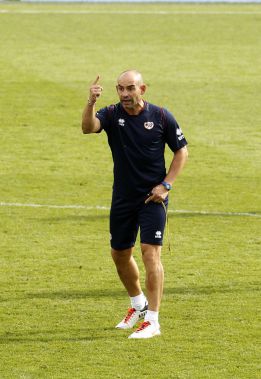 Rayo Vallecano coach Paco Jémez insists that his team must improve if they are to have any chance of beating Saturday's guests, Real Madrid.
Tomorrow's meeting with Real Madrid: "To beat a side like Madrid, we have to do everything much better than we have until now. Fear - no, never but respect, yes, we will always have that as it's a great pleasure to play against one of the best teams in the world".
The key to beating Madrid: "We have to believe that it's possible. I had a dream the other day that we beat them. I hope it comes true. To do it, we have to be perfect in terms of quantity and quality. In Pamplona on Wednesday, we have 60 per cent possession and had 25 shots on target – decent figures but apart from that, we need to make less mistakes at the back and be more clinical in attack".
Cristiano Ronaldo: "Real Madrid is not only about Cristiano Ronaldo. We'll do our best to make them feel uncomfortable whilst looking to create chances of our own. We too have players who can pose in their underpants, me included. Cristiano is a highly versatile player and from the moment he steps out onto the pitch, he knows exactly what he wants to do – he's a great competitor, he is always hungry and that is a good attribute for any player. He's also in a golden moment of form right now. He's a magnificent player who surprises us year after year because he's a winner and has natural talent. He will never reach his limit simply because for him, there is no limit".
Rayo with the worst defensive figures in the division: "Every game is different but it's true that we do need to improve in defence. The team is a bit down in the dumps but the positive side is that our next game will give us a chance to put things right. We've got a lot to put right but it's at times like this when I feel proud to be Rayo's coach".