CHAMPIONS LEAGUE | REAL MADRID - JUVENTUS
"We want to be like Madrid" says Juve coach Conte
"They are able to spend 100 million euros on one player and sell another for 50 million," the Juventus coach said in Tuesday's press conference.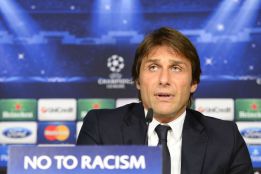 "We want to be like Real Madrid," said Juventus coach Antonio Conte on the eve of his team's Champions League meeting with the Spanish hosts.
Injury concerns: "None of my players have any broken bones or are bandaged up. We're going into this game on the back of a poor result (the 4-2 reverse to Fiorentina) but we will be taking on a great rival and that is enough to motivate me and my players".
Juve on the rocks: "If we are talking about our last game, then yes but these things happen in football. Look at what happened in the 2004 Champion League final when AC Milan had a 3-0 lead, Liverpool levelled the score and went on to snatch the trophy from them. The statistics show that we are a side who dominate the ball, attack and create chances. In eight games we have scored 10 goals but I'll certainly admit that recently, our rivals are scoring too easily".
Arturo Vidal: "He's an important player for us – like the others are. He's over his problems [Vidal turned up late for training after returning from international duty with Chile]. He's paid for what happened and that's that".
Evaluating the strength of the current side: "When we played Bayern in last season's tournament, they showed their quality and strength; something which we didn't do. Later, they were far superior to Barça. Tomorrow, we'll be playing at the Bernabéu against another very strong opponent. Real Madrid is a club which can spend 100 million euros on one player and sell another for 40 or 50 million. We want to be like them – that's what motivates us".
Wednesday's match: "I'm sure that it will be a good game – one which the spectators will enjoy; we know that it will be difficult for us. We will need to battle hard, there's no doubt about that but it will be Madrid who will dictate what we are able to take from the game".
Llorente's lack of continuity: "We've played eight games and he has started three of them. He joined us after a season of inactivity and a long period of pressure. He's a sensitive guy and he needed a period to adapt to the Italian game which is more physical. But now he's fine. He's in the list and could start tomorrow".
Buffon and Casillas: "Buffon is a winner whichever way you want to look at it. And if he's a great figure in sport, he is even more so off the pitch. He's not immune to making mistakes but for me, he's a safe bet in the Juve goal".
Real Madrid: "They are known all over the world and the team which is acknowledged as being the example to follow. Every season, they hatch plans to win every competition they enter and their coach and the players know that they have to give everything they've got in every game. They are a strong opponent but we are not afraid of them. We are aware that we are up against one of the candidates to win the trophy".
Ancelotti: "I envy the career he's had – but in a healthy way. He has achieved a lot. My coaching career has started well and I feel happy with how it is going along. Ancelotti deserves everything that he has achieved. I worked under him for two seasons at Juve and although we were unable to win anything, it was a pleasure to have him as the coach. Real Madrid represents the maximum for any coach and I wish him the best of luck tomorrow".