BARCELONA | TATA
Tata: "Ancelotti's interview? I'm pretty busy here at Barcelona"
The Barcelona coach gave his thoughts before tomorrow's League game against Osasuna.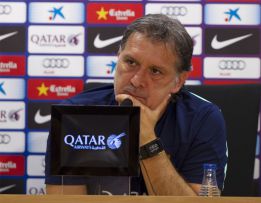 Tomorrow the Spanish League gets back up and running after the international break and Barcelona have the chance to level Real Madrid's record of nine straight wins to start the season. Tata Martino, their coach, took the press conference before the game...
Mental focus
When the games are so important and the squad are coming back from a FIFA break, the first game is vital. These matches influence the future. We're focused on Osasuna and the Sadar stadium, which is a tough place to go. Only after that game can we start thinking about Milan.
Puyol's return
It's great news for everybody and even more so for him. He's been nervous, knowing it was so close. If he's in the squad, it's because he can play. We'll see if he comes on or not, but he's fit. He's excited to be with the team. And for someone with a career like his behind him, that's brilliant.
Messi
When I put players in the squad it's because they can play. He's on the list to play.
Is Busquets tired?
He'll be tireless tomorrow.
Ancelotti's comment that "Madrid can't play any worse"
Barcelona keeps me far too busy to analyse what other coaches are saying.
Osasuna
Our starting XI is the one we think is the best for this game. I don't want to stop thinking about this match. There are 13 or 14 players who have just arrived and they are tired and worn out.
Barça's records
The news for me is what happens next May. I can see that statistics are important to some people, but what goes down in history is what happens at the end of the season.
League
We're five points ahead of Madrid; if we do things right we should have a happy ending, not forgetting Atleti of course.
Marathon of matches
I take every game seriously, but yes, this is a week of big games. It's all kicking off now.
Adriano
The injury to Jordi Alba was bad luck, and he's out for a few weeks. Adriano has rested and is ready to play. And if he can't, that's why we have a squad.
Players leaving
I hope to have started with this group and to finish with the same. But we'll see what happens in the future.
Piqué
When he left he was struggling a bit. He's come back a bit better. He's out because he needs a rest, not because of injury. His was troubled by his groin before and didn't finish the Valladolid game. Against Belarus he struggled a bit, but he said he was fine against Georgia. He could play tomorrow, no problem.
What kind of game do you expect?
I think Osasuna will be aggressive, strengthened by their win over Málaga. That could be a turning point for them. We'll try and keep the pressure on them and not let them have an easy game.
Ticketless children
That's a decision of the board. People at the club deal with that, I'm focused on Osasuna, Milan and Madrid.