REAL MADRID | ANCELOTTI
Ancelotti: "Casillas is good for the atmosphere; I hope he stays"
The Real Madrid coach faced the press before the league's resumption tomorrow after the international break.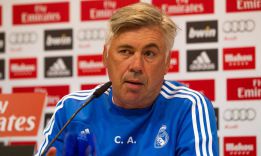 Real Madrid coach, Carlo Ancelotti, spoke to the press before tomorrow's game against Málaga and the journalists focused on Bale's return, as well as some of the things the Italian had let slip in the interview he gave to Corriere della Sera...
Casillas
I haven't talked to him about leaving. He's a great keeper and a great professional. Even if he doesn't play he helps the team, he's a true captain. I hope he stays because he's good for the atmosphere. I need to talk to him because it's only fair, but he looks happy to me and he's been very professional.
Madrid's poor play
We need to do better. Against Levante we played very badly for a time, then very well. We need to tighten up the defence and move the ball faster. We're going to get better because we know what we've been doing wrong.
Annoyed with France because of what happened to Varane?
No at all. His knee flared up and he couldn't play the second game. We spoke to Deschamps and they treated him with kid gloves. The injury he suffered was a serious one. He was out for four months. It's normal that his knee will become inflamed.
Bale
He doesn't have a problem with his back. You can't play a 100 games in four years with a slipped disc. His problem is that he missed pre-season. He can play know and he's ready for it. I don't know if he'll play the whole game or not against Málaga, but I'll try to play him. I've had three disc protrusions and they never gave me a problem in my career.
Was it a mistake to play him against Villarreal?
I've read that I was bonkers to play him, but I wasn't the first. He played for his national side first [it was principally the Welsh coach who criticised Ancelotti]. He didn't have any problems against Villarreal. It was later when he suffered the muscle strain.
Málaga
There are no easy games. The atmosphere changed after the game against Levante. The players are focused, but let's see how things go against a rival as tough as Málaga.
Marcelo
He's a player with great attacking ability who needs to get better defensively, but that's the same for the whole team. We've given away a lot of goals. But going forward he gives the team a lot of options.
Criticism
I'm very critical of myself, but I should also say that this team has character and personality. I'm confident.
Khedira
I've been told that he's happy. I don't know what he's said, but he's never shown me that he's not happy. He's an important player, especially in defence.
Team look fragile
Maybe Schuster was right when he said we haven't looked that strong, but I think it will be different against Málaga.
Relationship with Florentino Pérez
I talk to him every day and he knows I'm not happy because we can play better. But he's relaxed and confident.
Midfield
It's clear who should be playing there. The priority are those who didn't play for their countries. Illarramendi, Khedira and Isco will play.
Italian press / Spanish press
I spoke to them because of the game against Juventus. I don't have a problem giving interviews to the Spanish press – it just needs to be organised with Madrid's press officer.
Benzema
His problem with the French side is over, because he scored. For a striker it's so important. His confidence will improve. I hope he can play tomorrow. Karim is an important player and we need him to have his confidence high, even when he's not scoring – the youngsters are pushing hard and he has to improve quickly.