REAL MADRID | CASILLAS
"If it's the same in three months time I might think about leaving"
The Real Madrid captain spoke after taking part in the event for children: 'How to be a top sportsman'.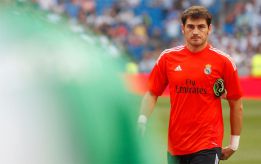 Real Madrid captain Iker Casillas took part today in the event "How to be a top sportsman" in the Sports Club of Boadilla del Monte, a picturesque dormitory village outside Madrid, where he gave a master class to 30 children. He then faced the youngsters questions who asked him, amongst other things, for his spell on the bench: "Of course I'd like to play", he replied, "but you need to respect the coach. It's his decision. A player, from a selfish point of view, will always want to play, but a good professional accepts it. I'd like to be at Real Madrid forever because it's what I've dreamed of doing since I was kid. What I need to do is train harder so I can play".
Would you leave? "If a player isn't in the action he starts thinking about taking a decision. I'm human and I'm a footballer. I haven't played for nine months now and it's the same for me. I'm not a robot. Of course I want to stay here and win more titles with Real Madrid. I've been here since I was little, but there will come a day in which I have to take a decision. As of now my decision is to stay and fight, to struggle and play every day. If I wasn't sure about it I would have told the president I wanted to leave in September and that no matter what at Christmas. But I decided that I want to be part of this squad for a long time yet... that said, if in three months things haven't changed and you ask me the same question, well maybe I'll be thinking about leaving".
Supported by the club? "I'm grateful for what Florentino said. Last year I decided to hold my tongue out of respect for the club. Real Madrid is more important than anything and I feel really supported"
Diego López: "He's been great this season, and last season too. He's on fine form".
Do you hold a grudge against Mourinho? "No. If we see each other one day we can go and get a coke or a coffee – my shout. He did some great stuff at Madrid. If we see each other we can talk about what happened face to face."
Bale: "When you come to Madrid everything is different. He can do great things here".
Özil: "I don't know how he left. He's a great player. Özil, his agent and Arsenal have the made the decision and it should be respected. I wish him all the best, just as I did when Mou went to Chelsea".
Ancelotti's comments that "Real Madrid couldn't play worse": "It's very demanding being at Real Madrid. The last two games have been tough and we haven't been at our best. The thing is to keep getting better, and for the team to gel".
Real Madrid's start to the season: "The team needs time. We've got a different coach from last year and new players. We need patience".
El Clásico: "We're going to think about Málaga and Juve first. If we beat Juve we could qualify after three games, which I've never seen before. 10 days can change everything".
Undiano will referee the match: "I always remember that we won the Cup with him in charge. I have some good memories and whenever I see him I give him a hug".
Would you coach in the future? "I still haven't thought about it. I've still got some time playing. There'll be time later to think about things like that".
Diego Costa or Negredo: "They are different types of players. Both are great and are in form right now. It's up to the coach the decision on Diego Costa".