SPAIN | DIEGO COSTA
Scolari includes Costa in 45-man provisional Brazil 2014 squad
However, the Brazil coach added intrigue to the matter, declaring: "I said he'd be in the 45-man list, I didn't say I'd call him up."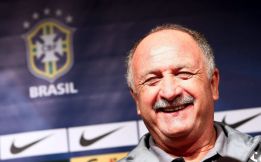 Brazil coach Luiz Felipe Scolari has confirmed that Diego Costa is among the 45 players that he could name in his 23-man squad for next year's World Cup and the upcoming friendlies before the tournament.
However, he clarified that that did not mean he was certain to call up the Atlético Madrid striker. Speaking in a press conference after Brazil beat Zambia 2-0 in Beijing, Scolari said: "I didn't say that Diego Costa would be called up. I just said that he was in the group of 45 players that we are interested in and that we may end up calling up."
The coach said that he was certain that two or three players who did not face Zambia and South Korea in the recent friendlies would be called into the squad for the next friendly, against Honduras in November.

The Spanish Football Federation (RFEF) has received notification from the Brazilian Confederation of Football (CBF) that confirms that Diego Costa has not played a competitive game for his national team at any level. As of now, Spain coach Vicente del Bosque is entitled to call the striker up to play for the world and European champions, because he has dual nationality, although Brazil are likely to report the matter to FIFA if he does so.

Costa was included in the squad for the two friendlies Brazil played last March against Italy and Russia, only featuring against Cesare Prandelli's side.

He has been left out of past Brazil squads, including for the Confederations Cup, and has told Del Bosque he wants to play for 'La Roja'.