SPAIN | DIEGO COSTA
Brazil and Spain will both call up Diego Costa in November
FIFA is likely to have to decide the case. Brazil will take the case to the governing body if Del Bosque names the player in his squad.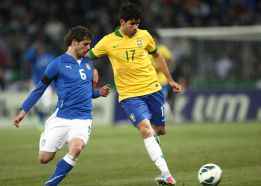 The Brazilian Football Federation (CBF) sent an official letter last night to their Spanish counterparts, stating that Diego Costa has not been called up for an official match for Brazil at any level but warning that the Atlético Marid has played two friendlies (against Italy, 21 March 2013 and Russia, four days later) and that the decision has been taken to call the player up for Brazil's two friendlies in November. Spain however also plan to call on the player at the same time and the conflict may end up being resolved by FIFA.
The letter also advises the Spanish federation that Scolari has not ruled out using Diego Costa at the World Cup next summer and reminds the Spaniards that the player was born in Brazil and has a Brazilian passport and that his eligibility to play for Spain comes about only because he has lived in the country and not because of any other connection, such as having Spanish ancestors.
If Del Bosque calls Diego Costa up in November the CBF will leave the conflict in FIFA's hands and it will be up to the Players' Status Committee to take a decision. Where either country is dissatisfied by the outcome this could then be appealed to the Dispute Resolution Chamber with the possibility that a final decision is delayed until after the World Cup, meaning the forward is unable to play for either country.
On 3 October Diego Costa had lunch with Spanish coach Vicente del Bosque and Spanish Federation General Secretary Jorge Pérez and confirmed to them that his intention was to play for Spain. The Spanish Federation intend to meet with him again this week.