REAL MADRID | KHEDIRA
Khedira: "I've been insulted and turned into a scapegoat"
The midfielder revealed his anger with the Spanish media to 'Kicker': "They don't value me, I'm not Spanish and I'm a disciple of Mourinho."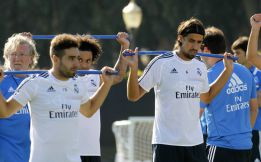 Real Madrid midfielder Sami Khedira has hit out at the Spanish sports media, who he feels undervalue him and paint him as the reason for the team's indifferent start to the season.
Speaking to German magazine 'Kicker', Khedira said that the Madrid press had not taken to him for a number of reason, including the fact he was foreign and not a marquee signing, and because he was loyal to former coach José Mourinho.
"I feel insulted by the Spanish press, I will never be one of their favourite sons," he said.
"I began the season on the bench and once again I've been made a scapegoat. They don't value me, even when I play well.
"I'm not Spanish, I didn't cost a lot and I'm a disciple of Mourinho."
The 26-year-old admitted that Madrid, who are five points behind Barcelona and Atlético Madrid at the top of La Liga, had not made the best of starts, and conceded that the team had not adapted in an ideal manner to new coach Carlo Ancelotti.
"We aren't playing well," he acknowledged.
"We may have had some good moments, but for large parts of games we have been playing in a complicated way, we have been too individual."
And he betrayed a sense of doubt about the viability of Ancelotti's project.
"I don't know if it's just a question of time, or something else, but we still haven't found ourselves as a team."
He also recognised the need for the team to turn things round as soon as possible, to prevent Atleti and Barça getting away from them in the title race.
"We have to improve fast. Barcelona are playing with a lot of consistency and Atlético have won all of their games up to now."
Khedira, who is suspended from Germany's final World Cup qualifier against Sweden tomorrow, also lamented the loss of his international teammate Mesut Özil, now of Arsenal, believing it has had a profound effect on the team.
"The loss of a player of Mesut's quality would weaken any team."